Calendar
9896
Aug
25
Sat
Bay Area National Prison Strike Call to Action / Mobilization

@ West Oakland BART, carpool to San Quentin State Prison
Aug 25 @ 11:00 am – 3:00 pm
The Bay Area National Prison Strike Solidarity Committee, stands in solidarity with the people who have declared a Nationwide Prison Strike beginning on August 21st (This date commemorates the assassination of Black Panther Party, Field Marshall, and prison activist, George Jackson, by San Quentin prison guards) and extending to September 9th, 2018. The National Prison Strike is in response to the "riot" in the Lee Correctional Institution, a maximum security prison in South Carolina on April 15, 2018. . Seven prisoners lost their lives during an instigated melee that could have been avoided had the prison not been overcrowded from the greed wrought by mass incarceration and a lack of respect for human life that is embedded in this country's penal ideology. We support these captives behind enemy lines, demand for humane living conditions, access to rehabilitation, sentencing reform and the end of modern day slavery.
The Bay Area National Prison Strike Solidarity Committee, is organizing a Mobilization and Call to Action, on August 25, 2018, at San Quentin State Prison, with the objective of raising awareness of the inhumane conditions, treatment and policies that afflict those held in these gulags throughout amerikkka. We are also mobilizing to let these sisters and brothers being held behind enemy lines know that we on the outside have their backs and that we support their Demands and the ongoing historic prison movement led and organized by those being held captive in amerikkka's gulags.
Our Call to Action / Mobilization will rally at the West Oakland, Bart Station at 11:00 AM, from there we will Car Pool and Bus to San Quentin State Prison.
These are the National Demands of the men and women in federal, immigration, and state prisons:
1. Immediate improvements to the conditions of prisons and prison policies that recognize the humanity of imprisoned men and women.
2. An immediate end to prison slavery. All persons imprisoned in any place of detention under United States jurisdiction must be paid the prevailing wage in their state or territory for their labor.
3. The Prison Litigation Reform Act must be rescinded, allowing imprisoned humans a proper channel to address grievances and violations of their rights.
4. The Truth in Sentencing Act and the Sentencing Reform Act must be rescinded so that imprisoned humans have a possibility of rehabilitation and parole. No human shall be sentenced to Death by Incarceration or serve any sentence without the possibility of parole.
5. An immediate end to the racial overcharging, over-sentencing, and parole denials of Black and brown humans. Black humans shall no longer be denied parole because the victim of the crime was white, which is a particular problem in southern states.
6. An immediate end to racist gang enhancement laws targeting Black and brown humans.
7. No imprisoned human shall be denied access to rehabilitation programs at their place of detention because of their label as a violent offender.
8. State prisons must be funded specifically to offer more rehabilitation services.
9. Pell grants must be reinstated in all US states and territories.
10. The voting rights of all confined citizens serving prison sentences, pretrial detainees, and so-called "ex-felons" must be counted. Representation is demanded. All voices count.
Endorsers:
ENDORSERS BAY AREA NATIONAL PRISON STRIKE SOLDIDARITY COMMITTEE
Black August Organizing Committee – Oakland
Poor Magazine – Oakland
IWOC (Incarcerated Workers Organizing Committee) – Oakland
California Prison Focus – Oakland
Worker World Party – Oakland
Idriss Stelly Foundation – San Francisco
Democratic Socialist of America (DSA) – San Francisco
National Brown Berets
MILLIONS4PRISONERS – San Jose
Aztlan Press – San Jose
The Mothers On The March Against Police Murders – San Francisco
Anti-Police Terror Project (APTP) – Oakland
Black & Brown for Justice, Peace and Equality – San Francisco
MLK Coalition For Jobs, Justice and Peace/ MLK Coalition of Greater LA
Puerto Rican Alliance – Los Angeles
Aztlan Realism Conecta – San Jose
ANSWER – San Francisco
Jericho Movement – Oakland
Committee to Free Jalil Abdul Muntaqim – Oakland
SUPPORT THE NATIONAL PRISON STRIKE!
JOIN THE BAY AREA NATIONAL PRISON STRIKE SOLIDARITY COMMITTEE!
ALL POWER TO THE PEOPLE!!!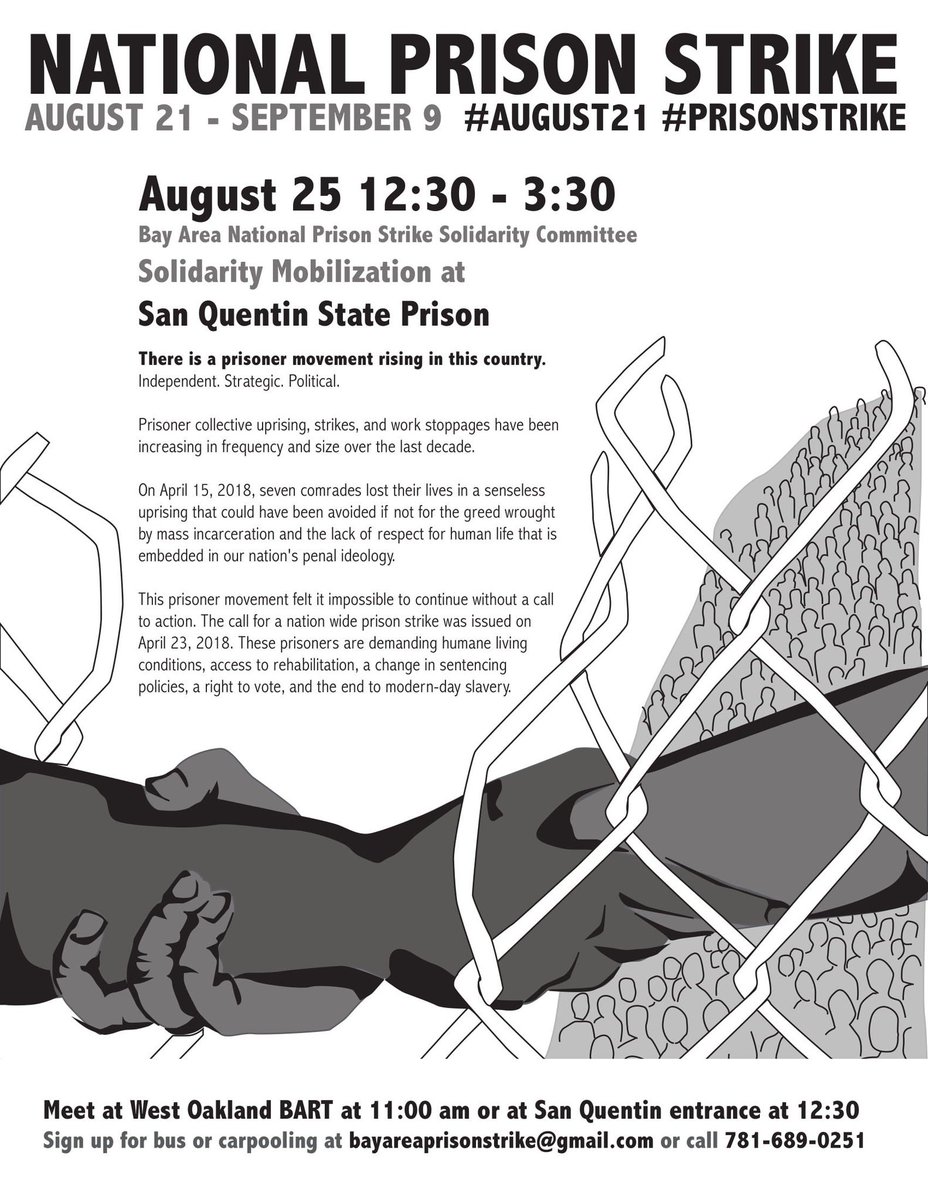 65000
Sep
12
Wed
Protest to Stop Financing of Oakland Coal Terminal
Sep 12 @ 12:00 pm – 1:30 pm
Come protest the Bank of Montreal's involvement in financing Oakland's unwanted coal terminal.
We will be demonstrating outside the conference of Principles for Responsible Investment, running concurrently with Global Climate Action Summit. Inside the conference, bankers and investors will be discussing responsible investment.
Outside we will be asking why the Bank of Montreal won't renounce its plan to finance the Oakland coal terminal.
The Bank of Montreal has been instrumental in attempting to raise the $$ to finance the proposed coal terminal on the Oakland waterfront. They lobbied to get $50 million from the State of Utah and proposed to raise $200 million from pension funds, downplaying if not outright concealing that coal is involved. You can read more about this at NoCoalinOakland.info.
We want to stop the Bank of Montreal (which claims to practice socially responsible financing) and warn pension funds and other institutions that they may be targeted for this toxic and risky investment.
If there is no funding, there will be no terminal!
This is an informational event with leafletting, colorful banners, creative picket signs, chants, singing, and possible street theater.
You can also sign our Open Letter to the Bank of Montreal at tinyurl.com/BMO-letter

65002