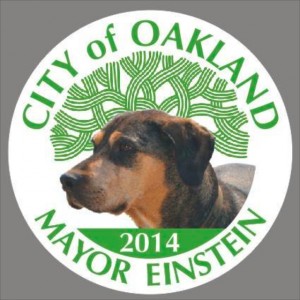 Twenty candidates for Mayor on the wall.
Twenty candidates for Mayor.
You take one down…
You pass him or her around…
Twenty-one candidates for Mayor on the wall.
And then there's Einstein.  On the Internet, no one has to know you're a dog, but at the City Clerk's office it's a different story. Species bias has prevented the next Mayor or Oakland from being listed on the ballot, but that has not stopped the future His-Canine-Honor from creating a Mayoral platform, website, twitter account and a Facewoof page.
Now, it seems, the Main Stream Media are waking up to dog slobber the prospect of a canine calling the shots at City Hall (something many feel would be a significant improvement – see selected comments below).  Einstein has had two articles written about his campaign (in the SF Chronicle and SF Fist), and  a news report on KTVU.  All in the last few days!
Einstein will run-on-the-grass-roots, refusing campaign contributions. However, you can support Einstein for Mayor by making a contribution to Monique Robinson's son Taylor's support fund.
Vote early. Vote relatively often. Vote Einstein!
Selected comments about Einstein's candidacy:
" I would vote for Einstein in a nanosecond over Quan and Kaplan, were I an Oaktown voter."
"I'll vote for the dog."
"The dog likely drives better."
"Still a way better option than Quan or her cronies."
"I'm confident that this dog would be both: a.) a better leader, b.) a better driver than Quan."
More about Einstein:
56216