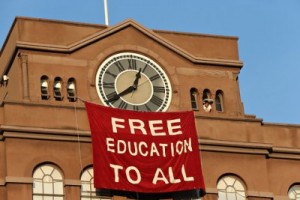 He's Mike. She's Cassie.  And here's Strike Debt Radio's fourth show in two months. Strike Debt Bay Area's dynamic duo talk to Professor and Occupy Organizer Andrew Ross about the student debt crisis.  (You can find the first three episodes here.)
Here's a couple of excerpts from this latest show.
"If you do the math, you have to conclude that this ((an education)) is not a particularly good bargain for most people… This year alone, the Federal government is estimated to take 51 billion in profit from their student loan system…"
Below, listen to the whole segment as Mike and Cassie lead us from debt forgiveness to what we really want: free public college-level education, and what it would cost to get us there (surprisingly little).
(And you can find the complete Strike Debt song here  – the introductory and ending musical snippets are just a small part!)

54762