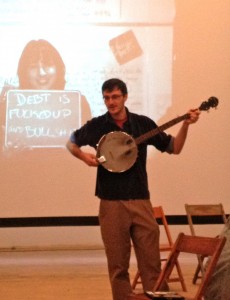 Strike Debt Bay Area now has a radio segment! The first piece aired on KPFA on Wednesday, December 4th, 2013 beginning at 8:33 AM. (33 minutes into the Morning Mix show here). Future shows are planned for approximately the same time slot weekly, although the next show is currently scheduld to air on December 18th, two weeks from the first one.
Listen to Mike and Cassie talk about debt, building resistance to unjust debt, and Strike Debt.
There's also a Strike Debt song to go along with the show (although the song was not quite ready to be heard on the first show). This is how it begins:
You are not a loan
When there's so many of us can't afford a home
When there's so many of us can't get a job
…
and here it is – you get to hear the rap before the teeming masses.

—–
Strike Debt Bay Area.
Subscribe to our mailing lists (in in right column).
54305