When:
December 6, 2013 @ 3:00 am – 5:00 am
2013-12-06T03:00:00+00:00
2013-12-06T05:00:00+00:00
Where:
Berkeley Arts Festival Space
2133 University Avenue
Berkeley, CA 94710
USA

The Berkeley Community Heeds the Call for a Grand Alliance to Defend America's Right to a Vibrant Public Postal Service!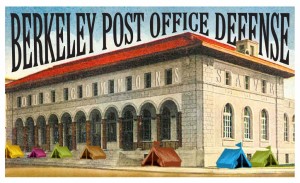 John Postal Workers, Berkeley Post Office Defenders, Strike Debt Bay Area, the Green Party and others interested in protecting our hard earned public resources from the profit pirates of privatization. We are gathering to discuss the next steps in this ongoing campaign and ask you to come help us formulate solutions to save our commons, in particular the Berkeley Post Office which is on the auction block.
Come learn more about our legislative, judicial and direct action tactics. Discuss how to bring democratic pressure to bear on Berkeley's elected officials to pass a zoning overlay which would impact the ability of the Post Office to sell the downtown property. Learn more about the toxic strategy of the privateers who hope to sell off the entire Postal Service. Contribute your energy and ideas.
Statement by APWU President Mark Dimondstein.
54182