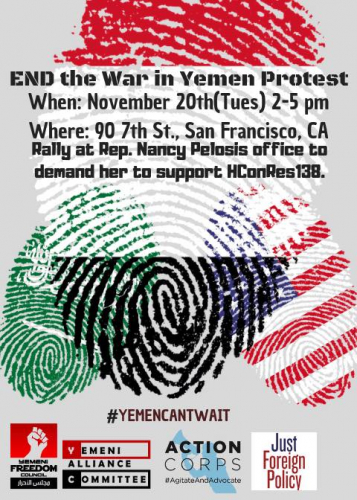 Saturday the State Department said it had not reached a final decision on responsibility for the murder, despite the CIA's conclusion the Crown Prince personally ordered it. The US-Saudi relationship has come under increased scrutiny, particularly in regards to the murder of Jamal Khashoggi and the war in Yemen. A group of bipartisan senators Thursday introduced the Comprehensive Saudi Arabia Accountability and Yemen Act which would halt weapons sales and other military support for Yemen. The House likely will vote on their own Yemen bill in January.
PHOTO OP: Members of the Yemeni-American community and friends speaking and protesting with signs outside of Reps Pelosi and Schiff offices
WHAT: Activists will rally at Reps Pelosi and Schiff offices in SF and LA to demand they cosponsor HConRes138. This bill would end US military involvement in the Saudi war on Yemen. The US has been complicit in creating the conditions for famine in Yemen for years.
WHO: Cindy Sheehan, the mother of the U.S. Army specialist killed in Iraq, and Jehan Hakim, chair of Yemeni Alliance Committee, will speak at the rally at Pelosi's office. Sarah Burns of Just Foreign Policy, and Frances Motiwalla of Peace Action, will speak at the rally at Schiff's office. The rallies are organized by Just Foreign Policy, Action Corps, and Yemeni Alliance Committee. They are co-sponsored by CODEPINK: Women for Peace, MoveOn, Bay Area for Bernie, Women's March on the Pentagon, Jewish Voice for Peace Bay Area, and Partnerships for Trauma Recovery (List in Formation).
WHY: The US Administration recently announced it would stop refueling Saudi warplanes over Yemen. But Wednesday the US House narrowly voted to block debate of a bill to withdraw the US completely from the Saudi Coalition in Yemen. The US continues to provide critical military support and diplomatic cover for Saudi Arabia in Yemen. The Saudi Coalition has stopped the flow of food, medicine, and fuel into Yemen, leaving 14 million people on the brink of the world's worst famine in a 100 years. Since the Trump Administration called for a ceasefire, Saudi Arabia has further intensified its assault on Yemen's main port of Hodeida causing hundreds of thousands of people to flee for their lives, worsening the world's worst humanitarian disaster. Congress has never authorized U.S. military involvement in Yemen, and it's long overdue for Congress to vote on it.
In September 2018, Reps Ro Khanna (D-CA), Adam Smith (D-WA), Mark Pocan (D-WI), Walter Jones (R-KY), Thomas Massie (R-NC) introduced House Concurrent Resolution 138 (HConRes138). If passed, it would direct the President to completely withdraw from the war by cutting off mid-air refueling and targeting assistance for Saudi warplanes. House Minority Leader Nancy Pelosi — who faces a vote to become the next House Speaker — and Adam Schiff, ranking Democrat on the House Intelligence Committee, have yet to publicly support the bill, despite it being supported by almost every other ranking Democrat in the House. It's time for them to get on board.
QUOTES FROM SPEAKERS
"Just as the House killed HConRes81 last year, GOPs fought to block HConRes138 [November 15]; which is a strong resolution that will finally end US support for the Saudi-led coalition waging war in Yemen. We are disappointed that our lawmakers chose to stand on the wrong side of history… again. We've seen it in Iraq, Lisbya and still see it in Syria. There are over 14 million Yemenis on the brink of starvation, and we have not only been supporting and backing the almost three-year-long war on the poorest Arab nation, but our Congressional Representatives are abdicating their duty to save lives and pull us out of this illegitimate war. If the 50,000 Yemenis that have been killed, or the brutal murder of Washington Post journalist Khashoggi at the hands of the 'Kingdom,' does not make us rethink our relationship Saudi Arabia, then what will? We demand from our Representatives to have the courage to support peace in Yemen, accountability in our involvement and to support HConRes138."
– Jehan Hakim, Yemeni Alliance Committee Chair
"Nancy Pelosi and Adam Schiff market themselves as 'progressive leaders,' but when the House vote finally came on ending the Saudi regime's Yemen war, Pelosi and Schiff weren't leaders; they were people who just barely showed up at the last minute. Pelosi and Schiff must lead now on ending the war, starting with co-sponsoring the Yemen war powers resolution, or other Democrats should take their places in the House Democratic leadership in the election on November 28."
– Robert Naiman, Just Foreign Policy Policy Director
"Rep. Ted Lieu (D-CA) has said the Saudi airstrikes on Yemen 'look like war crimes.' Then why have not Democratic Leader Nancy Pelosi and Ranking Member Adam Schiff co-sponsored the bill to stop backing these airstrikes? We appreciate Ms. Pelosi's recent statement on the war, but it is not enough. We need her and Mr. Schiff to publicly pledge they will make Yemen a top priority if Ms. Pelosi is elected speaker on November 28. The lives of millions of people depend on it."
– Isaac Evans-Frantz, Action Corps Organizer
65307