When:
November 1, 2014 @ 5:30 pm – November 2, 2014 @ 4:30 am
2014-11-01T17:30:00+00:00
2014-11-02T04:30:00+00:00
Where:
Downtown Berkeley Post Office steps.
2000 Allston Way
Berkeley, CA 94704
USA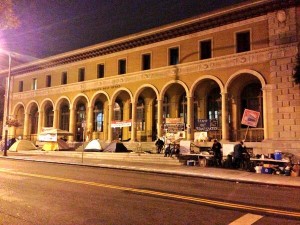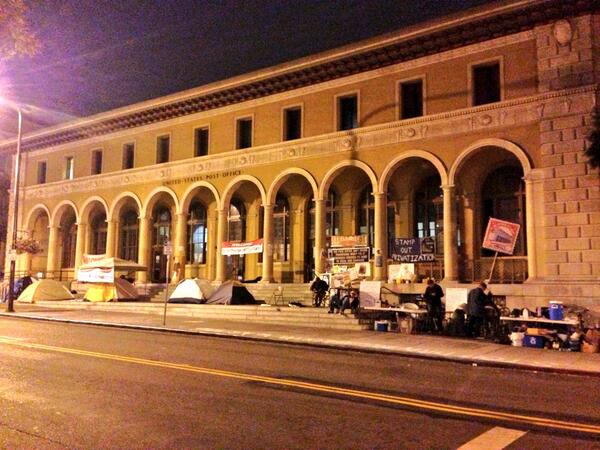 The Downtown Berkeley Post Office could be sold at any time now!
Come rally to show support and plan the resistance!
A detailed explanation of why it is now in imminent danger of being sold.
MOBILIZATION!
      HELP STOP THE SALE!
Sat. Nov. 1, 2014 2000 Allston Way on the steps of the  
Berkeley Post Office    
It's now in contract TO BE STOLEN!
The fate of the downtown Berkeley Post Office has reached a crisis point. The transfer of the building to private ownership may be only days away. For this reason, Berkeley Post Office Defenders call for a collaborative mobilization of all those who oppose the threat of privatization. Individuals and organizations will gather to share music, establish an ongoing direct action presence, and provide updates and support for political and legal action including:
  –  An injunction to Stop the Sale
  –  Postal banking
–  Preservation of historic public property
  –  Boycott Staples profitization of postal services   
Massive Rally, 10:30 am to 12:30 pm,
1ST Action: Sponsored by Save the Berkeley Post Office

For more information please go to www.savethebpo.com
Jam the Sale, 1 pm till 10 pm
2nd Action: Coordinated by Berkeley Post Office Defenders,     berkeleypostofficedefenders.wordpress.com             
"Come play music! Bring instruments — including your singing voice, spoken word and dancing body. We will not allow our Post Office to be sold, and nothing can sustain persistent resistance like music. We will play until USPS stops pretending not to hear us say that our Post Office is not for sale!" You're welcome to pre- schedule at  http://tinyurl.com/mlxgpff
Direct Action Presence, (bring your pillows)
3rd Action: in Collaboration with First They Came for the Homeless
www.facebook.com/pages/First-they-came-for-the-homeless/253882908111999
 It's time to establish and support a physical presence at the Downtown Berkeley Post Office. By taking direct action to defend our public goods, we affirm our reasons for living in community by sharing our energy and resources for the benefit of all.                                                                                                              ___________________________________________________
Please help us mobilize for a massive live and media protest.                      
Contact us electionamend@gmail.com
57051