When:
October 4, 2019 @ 7:00 pm – 8:30 pm
2019-10-04T19:00:00-07:00
2019-10-04T20:30:00-07:00
Where:
People's Park
2556 Haste Street Berkeley
CA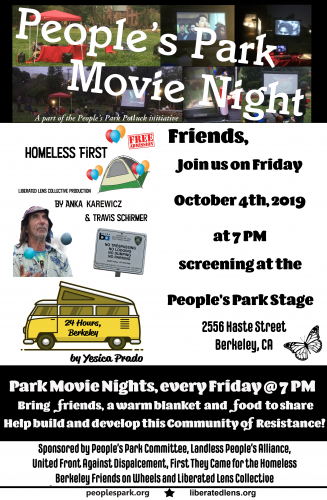 Homeless First by Anka Karewicz & Travis Schirmer
This documentary, a Liberated Lens original production, follows the Berkley encampment known as "First They Came for the Homeless," a group fighting for the right to live in tents within a self-sustaining community. After BART evicted the group from their space, they went to court to fight back. Several residents share their personal stories, views on homeless activism, and ideas about organizing a self-governed, shared community. The majority of voices and opinions in this film come from within the group itself.
https://liberatedlens.org/our-work/first-they-came-for-the-homeless-homeless-first/
24 Hours by Yesica Prado
Documentary on the eviction of people living in vehicles in Berkeley.
67180