When:
September 20, 2017 @ 6:30 pm – 8:30 pm
2017-09-20T18:30:00-07:00
2017-09-20T20:30:00-07:00
Where:
Omni Commons (usually in ballroom or downstairs)
4799 Shattuck Ave
Oakland, CA 94609
USA

Join Oakland Privacy to organize against the surveillance state,  against Urban Shield, and to advocate for privacy and surveillance regulation ordinances to be passed by our State Legislature and around the Bay Area, including the Alameda and San Francisco County Boards of Supervisors, the BART Board of Directors, and by the Oakland, Berkeley, Richmond, Albany and Davis City Councils.
We are also engaged in the fight against Predictive Policing and other "pre-crime" and "thought-crime" abominations, drones, improper use of police body cameras, ALPRs, requirements for "backdoors" to your cellphone and against other invasions of privacy by our benighted City, County, State and Federal Governments.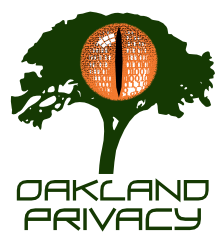 Oakland Privacy (nee Oakland Privacy Working Group) originally came together in 2013 to fight against the Domain Awareness Center (DAC), Oakland's citywide networked mass surveillance hub. OPWG was instrumental in stopping the DAC from becoming a city-wide spying network; its members helped draft the Privacy Policy that puts further restrictions on the now Port-restricted DAC, and made Oakland's new Privacy Advisory Commission to the City Council happen.  We were also the lead in having Alameda County pass the most comprehensive privacy and usage policy in the country for deployment of "Stingray" technology (cell phone interceptors).  Oakland and Fremont have followed suit. In conjunction with other groups we fight against Urban Shield and other killer-cop trainings.
We have presented our work at RightsCon in San Francisco and at Left Forum and HOPE in New York City.
If you would like to attend our meeting and would like a quick introduction to what we're doing before we dive right into the thick of our agenda, send email to  contact@oaklandprivacy.org and one of us will arange to meet you before the meeting.
Stop by and learn how you can help guard our right not to be spied on by the government. Look on the whiteboard inside near the entrance to the OMNI for our exact location within the OMNI.
If you are interested in joining the Oakland Privacy Working Group email listserv, send an email to:
oaklandprivacyworkinggroup-subscribe AT lists.riseup.net
or send a request to contact@oaklandprivacy.org
For more information on the DAC check out
63446