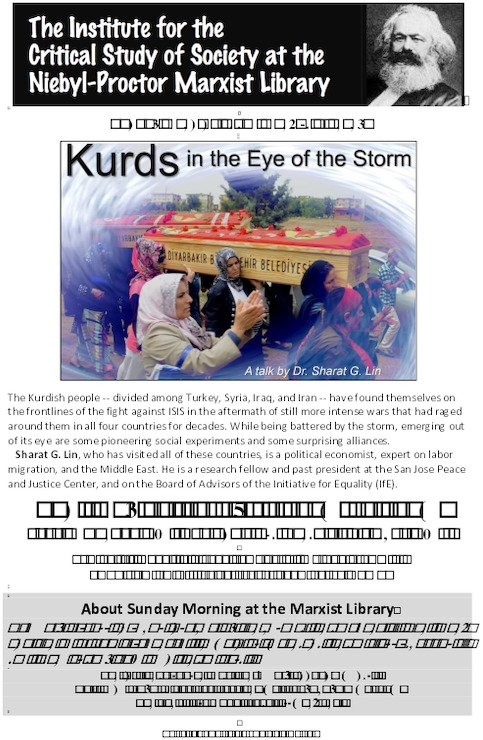 Sunday Morning at the Marxist Library
Kurds in the Eye of the Storm
The Kurdish people — divided among Turkey, Syria, Iraq, and Iran — have found themselves on the frontlines of the fight against ISIS in the aftermath of still more intense wars that had raged around them in all four countries for decades. While being battered by the storm, emerging out of its eye are some pioneering social experiments and some surprising alliances.
Sharat G. Lin, who has visited all of these countries, is a political economist, expert on labor migration, and the Middle East. He is a research fellow and past president at the San Jose Peace and Justice Center, and on the Board of Advisors of the Initiative for Equality (IfE).
Seating is limited, so plan to come early. We start promptly.
FREE – but hat will be passed for donations to NPML
About Sunday Morning at the Marxist Library
A weekly discussion series inspired by our respect for the work of Karl Marx and our belief that his work will remain as important for the class struggles of the future as they have been for the past.
For our full schedule, go to icssmarx.org
Labor donated by ICSS volunteers
64694