TELL CALIFORNIA ATTORNEY GENERAL KAMALA HARRIS:
PROSECUTE KILLER COPS IT'S YOUR JOB
RALLY AND SPEAKOUT 3PM THURSDAY 2/13 1515 CLAY STREET, OAKLAND (STATE BUILDING BEHIND OSCAR GRANT PLAZA)
Initiated by the Justice 4 Alan Blueford Coalition.
The Justice for Alan Blueford Coalition (JAB) submitted a letter to California Attorney General Kamala D. Harris at the State March Against Police Brutality on October 22, demanding that she do her job and prosecute Miguel Masso for the murder of Alan Blueford. Since then she has responded with a flat refusal to reopen the investigation. (See excerpts from the letter we sent below.) On October 22 and since we have reached out to other families with victims of police murders to join in a statewide campaign to demand that AG Harris do her job. Many families have joined on and will be sending letters about their loved ones to Harris, demanding prosecution of the killer cops. All the families are invited and welcome to join us at the rally and speakout at the State Building in Oakland.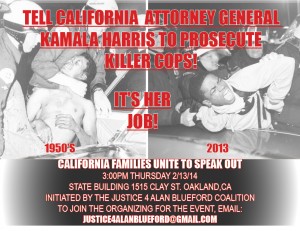 EC. 13. Subject to the powers and duties of the Governor, the Attorney General shall be the chief law officer of the State. It shall be the duty of the Attorney General to see that the laws of the State are uniformly and adequately enforced.
The Attorney General shall have direct supervision over every district attorney and sheriff and over such other law enforcement officers as may be designated by law, in all matters pertaining to the duties of their respective offices, and may require any of said officers to make reports concerning the investigation, detection, prosecution, and punishment of crime in their respective jurisdictions as to the Attorney General may seem advisable.
Whenever in the opinion of the Attorney General any law of the State is not being adequately enforced in any county, it shall be the duty of the Attorney General to prosecute any violations of law of which the superior court shall have jurisdiction, and in such cases the Attorney General shall have all the powers of a district attorney. When required by the public interest or directed by the Governor, the Attorney General shall assist any district attorney in the discharge of the duties of that office.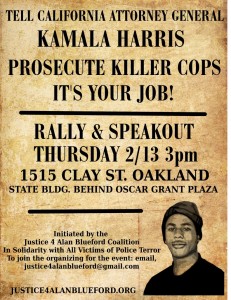 54633