When:
January 17, 2018 @ 11:00 am – 3:00 pm
2018-01-17T11:00:00-08:00
2018-01-17T15:00:00-08:00
Where:
State Capitol , Room 4202
1315 10th St
Sacramento, CA 95814
USA

Healthcare is a human right! Join us at this rally to show support for S.B. 562, The Healthy California Act. This life-saving legislation would guarantee healthcare for ALL Californians.
The California Assembly's Select Committee on Healthcare Delivery Systems and Universal Coverage has just announced their third hearing, this time to be held in the State Capitol in Sacramento.
This hearing is another opportunity for us to demonstrate the powerful public support that the movement for SB 562 has built to the very legislators that have the ability to make universal healthcare a reality.
Join us for a rally to call for Healthcare for All directly prior to the start of the hearing. The rally will begin outside the building at 11:00, followed by attending the hearing itself at 1:00 pm in Room 4202.
Note – Some bus transportation from select locations will be provided.
UPDATE: We've got buses! See below for the bus schedule. All buses will leave the rally at 5:30pm.
OAKLAND/BERKELEY
STOP 1: Departs @ 7:45 am from CNA Headquarters, 250 22nd Street, Oakland CA
STOP 2: Departs @ 8:15 am from Ed Roberts Campus across from Ashby Bart, 3075 Adeline St, Berkeley CA
Make sure to RSVP here as well: https://actionnetwork.org/events/join-the-healthcare-for-all-rally-at-the-january-healthcare-hearing-in-sacramento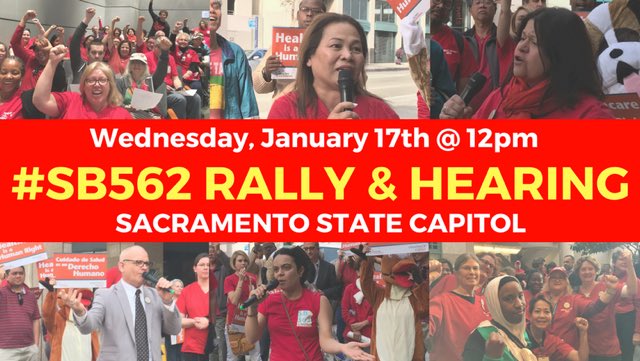 OFFICIAL NOTICE:
Select Committee On
Health Care Delivery Systems
And Universal Coverage
ARAMBULA, WOOD, Chairs
( Listen to this hearing )
Committees: Health Care Delivery Systems and Universal Coverage
Hide Details
INFORMATIONAL HEARING 
SUBJECT: 
Achieving Better Quality and Lower Costs in California's Health Care System
64098