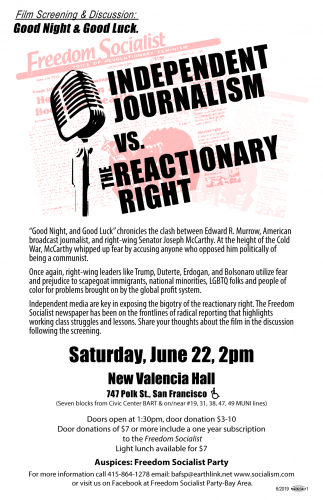 Film Screening & Discussion:
Good Night & Good Luck.
Independent Journalism vs. The Reactionary Right
"Good Night, and Good Luck" chronicles the clash between Edward R. Murrow, American broadcast journalist, and right-wing Senator Joseph McCarthy. At the height of the Cold War, McCarthy whipped up fear by accusing anyone who opposed him politically of being a communist.
Once again, right-wing leaders like Trump, Duterte, Erdogan, and Bolsonaro utilize fear and prejudice to scapegoat immigrants, national minorities, LGBTQ folks and people of color for problems brought on by the global profit system.
Independent media are key in exposing the bigotry of the reactionary right. The Freedom Socialist newspaper has been on the frontlines of radical reporting that highlights working class struggles and lessons. Share your thoughts about the film in the discussion following the screening.
Doors open at 1:30pm, door donation
Light lunch available for $7
Auspices: Freedom Socialist Party
http://www.socialism.com or visit us on Facebook at Freedom Socialist Party-Bay Area.
66684