When:
January 4, 2021 @ 12:00 pm – 1:00 pm
2021-01-04T12:00:00-08:00
2021-01-04T13:00:00-08:00
Where:
British Consulate
1 Sansome St. San Francisco
CA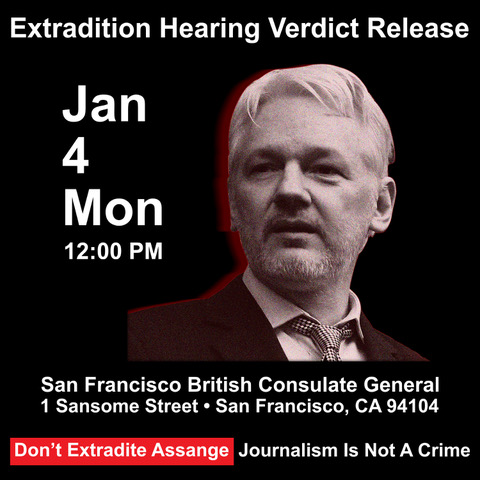 Free Julian Assange NOW! Drop The Charges Against Assange & Snowden
Now is the time to stand up for the freedom of journalist Julian Assange and whistleblower Edward Snowden. The trial decision will be read at the UK court hearing on January 1, 2020 at 12 noon and we will be rallying in San Francisco at the British consulate to demand that he be immediately freed.
He is a journalist who is in jail for exposing the crimes of US, British imperialism and the multi-nationals that run the world. WikiLeaks has taken the mask off the real criminals and terrorists running the US government.
We demand that all charges be dropped against him and Edward Snowden who is also faced with being arrested for being a whistleblower against the crimes of the US war machine.
This action was initiated by
The Bay Action Committee To Free Julian Assange.
It is endorsed by
United Front Committee For A Labor Party.
To endorse or speak contact
info(at)BayAction2FreeAssange.org
68433