When:
November 28, 2017 @ 6:30 pm – 10:00 pm
2017-11-28T18:30:00-08:00
2017-11-28T22:00:00-08:00
Where:
Oakland City Hall, Oscar Grant Plaza
500 14th St
Oakland, CA 94612
USA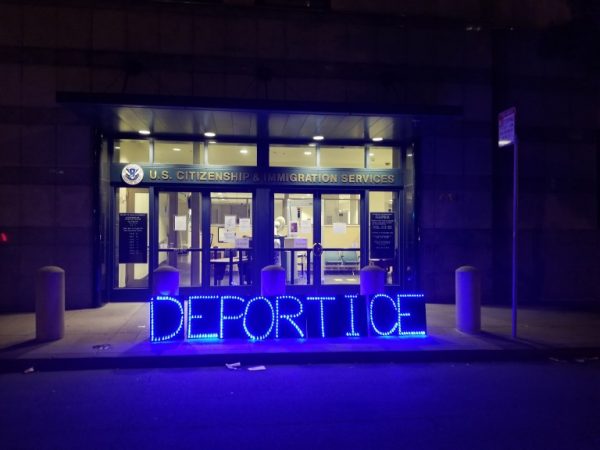 After the strong showing in Oakland on November 14, Oakland mayor Libby Schaaf and OPD chief Anne Kirkpatrick got nervous and pulled a fast one, scheduling a special council agenda item on November 28 to discuss the ICE Raid and consider an OPD request for total impunity to work with HSI/ICE going forward – before the public hearing on December 5th – and before CM Kaplan and Brook's resolution for non-cooperation with ICE can be heard. The Bay Area needs to respond. So come out on the 28th.
On August 16, HSI/ICE conducted an AM raid on the 700th block of 27th Street in West Oakland with OPD assistance. The raid was advertised (erroneously) as a search warrant for the sexual trafficking of juveniles, biut there were no actual allegations of sexual abuse, no juveniles were removed from the home and the solitary arrest was for being undocumented. The 25 year old arrestee is now in the deportation process. At an October 5th investigation and hearing that the OPD Chief did not attend, Oakland's Privacy Commission concluded that the raid violated Oakland's sanctuary city policy and several statements made by OPD chief Anne Kirkpatrick about the raid were false.
Video of the hearing is here. https://oaklandprivacy.org/2017/10/06/privacy-advisory-commission-investigation-of-oakland-ice-raid-concludes-violation-of-sanctuary-city-policy/
East Bay Express coverage is here:
https://www.eastbayexpress.com/oakland/oakland-police-chief-made-false-statements-about-ice-raid/Content?oid=9793923
City Council members Desley Brooks and Rebecca Kaplan have now set this item for a committee hearing with the OPD Chief in attendance only to have the Mayor and City Council President do an endaround and try to rush authorize ongoing OPD cooperation with HSI/ICE.
Oaklanders and other Bay Area residents who want sanctuary legislation taken seriously around the Bay should attend. We need to put a stop to this. #DeportICE.
#DeportICE  #DeportICE  #DeportICE  #DeportICE
63940