When:
October 24, 2019 @ 8:00 am – 11:30 am
2019-10-24T08:00:00-07:00
2019-10-24T11:30:00-07:00
Caltrans is coming on Thursday, Oct. 24 and 25 for Berkeley Homeless. Upstairs/Downstairs will be hit on Thursday. Gilman and Ashby/Shellmound on Friday.
The majority of the residents and have approved an occupation of the two encampments. Meaning residents are inviting homeless throughout Berkeley to move to the Seabreeze/I-80 Underpass to stand collectively together. Currently, homeless in downtown Berkeley are being harassed and many are being cited with violation of the sidewalk ordinance. A one time occupation where we can stand together will demonstrate how many are tired of being kicked around. This (see below) is what I shared on FB. Please feel free to share our message with everyone. We need help. Thanks so much!
Please read and share. Are you homeless in Berkeley? Are you housed and want to stand in solidarity with us.We are asking all homeless who are tired of being kicked around, harassed, vilified, hated and alone to join the encampments at the Seabreeze and under the I80 underpass. We have room for your tent. Caltrans is coming this Thursday, October 24th. Come and pitch your tent so we can collectively tell the Bay Area that we are human and that we exist. Alone you can be harassed but we can stand together as human beings to demand an answer to "Where do we go?" So many citations are being issued in downtown Berkeley each week. There are evictions all through Oakland this week. All are welcome to join us. This is a nonviolent action. Know that you are worthy and you are not invisible. A movement has started, join us. #wheredowegoberk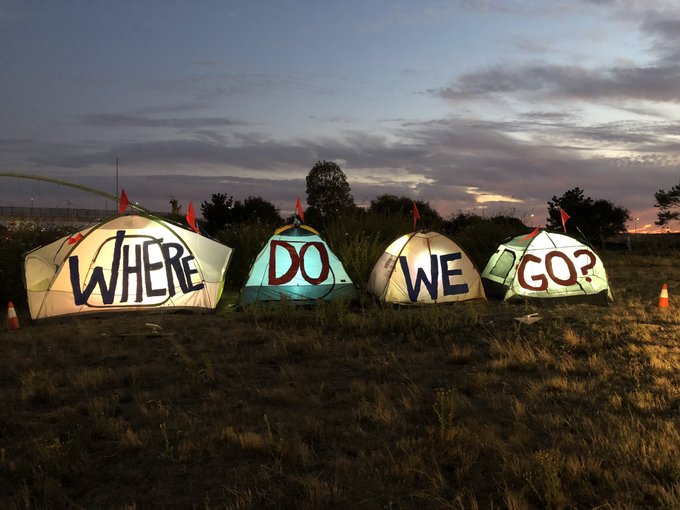 67272