When:
September 6, 2014 @ 7:00 pm – September 7, 2014 @ 12:00 am
2014-09-06T19:00:00+00:00
2014-09-07T00:00:00+00:00
Where:
Mosswood Park
3612 Webster Street
San Francisco, CA 94123
USA

Cost:
Donations encouraged; no one turned away!
Contact:
@CAHungerStrike
510-863-0477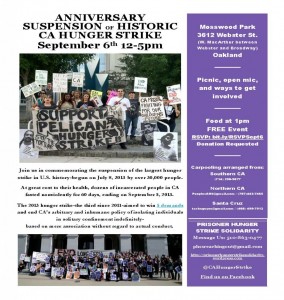 Join us in commemorating the suspension of the largest hunger strike in U.S. history-begun on July 8, 2013 by over 30,000 people.
At great cost to their health, dozens of incarcerated people in CA fasted nonviolently for 60 days, ending on September 5, 2013.
The 2013 hunger strike-the third since 2011-aimed to win 5 demands and end CA's arbitrary and inhumane policy of isolating individuals in solitary confinement indefinitely- based on mere association without regard to actual conduct.
Food at 1:00 PM.
RSVP: bit.ly/RSVPSept6
Carpooling arranged from:
Southern CA (714) 290-9077
Northern CA PeoplesARC@gmail.com / (707)442-7465
Santa Cruz tashnguyen@gmail.com / (408) 499-7912
56502