When:
July 8, 2014 @ 1:30 am – 2:30 am
2014-07-08T01:30:00+00:00
2014-07-08T02:30:00+00:00
Where:
Downtown Berkeley Post Office
2000 Allston Way
Berkeley, CA 94704
USA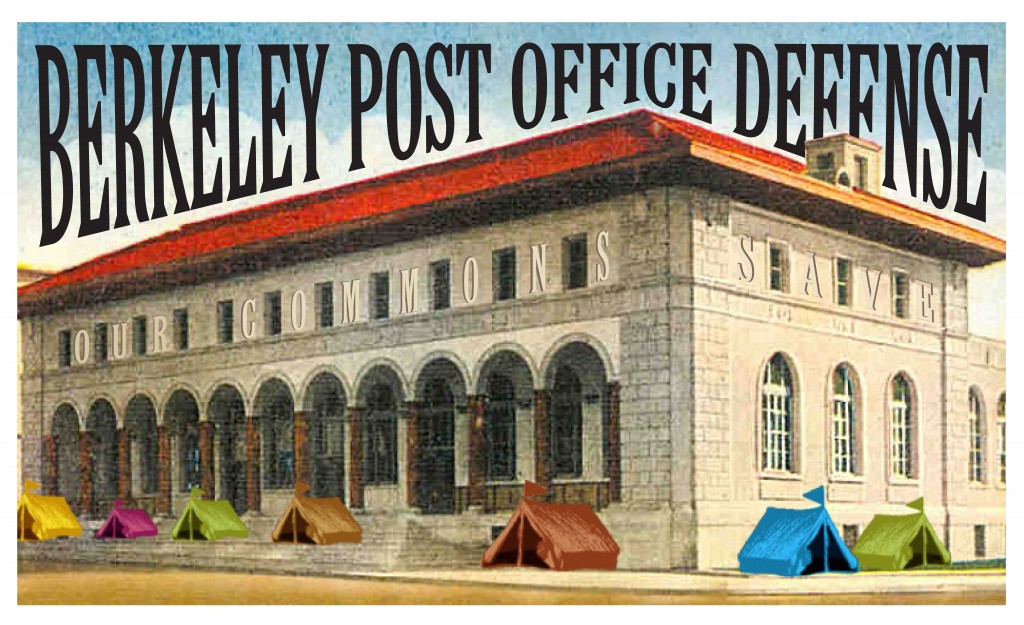 The Postal Service has put the Berkeley Post Office up for sale!!
The Postal Service has started to outsource Post Office services to Staples, replacing union jobs with low-paying, low benefit work.
And we're fighting against both!
Come help us plan our next steps.
We've began the "Don't Shop at Staples" campaign with some awesome… what else? … postcards to send to Staples management!  Here's the front of the postcard. The campaign has been adopted by Postal Unions, the San Francisco Labor Council and has been endorsed by the AFL-CIO, and has gone national!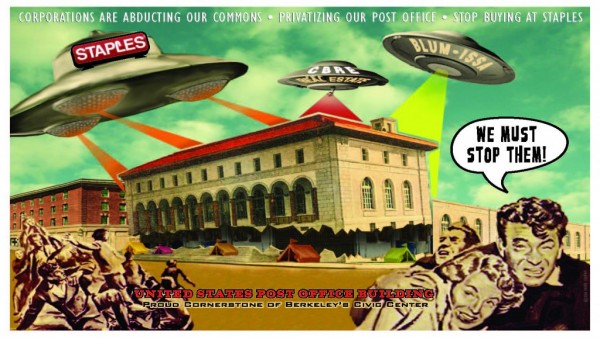 All four Postal Unions have joined together to support maintaining full service, public Post Offices in every community, with expansion to include postal banking, and to oppose subcontracting and privatization of services. The California Federation of Teachers passed a resolution in support of opposition to Staples.  We are trying to get the Alameda Labor Council to pass a similar resolution.
And we need to be prepared if the Post Office announces a sale! The Advisory Commission on Historical Preservation came out with its report, recommending that sales of Historic Post offices be halted until the USPS conforms with historical preservation law. Here is our response.  Also the Office of Inspector General's report on the sale of Historic Post Offices came out  recently – anything could happen now since Congress' "request" that no historic Post Offices be sold until it had come out has been honored and no further Congressional request or mandate has come down. Come help us plan our response.
We have joined with other activists in Berkeley to put a ballot initiative on the ballot to rezone the Berkeley Post Office and other areas in the Historic District to prevent privatization, and also to insure a better Downtown Berkeley.  We succeeded in getting the necessary signatures; it will be voted on in November, but Tom Bates and the City Council have nefarious plans to undermine our coalition.
Encouraging articles are still coming out about using Post Offices as banking facilities for the unbanked. The National Conference of Mayors just endorsed Postal Banking. We held a forum on postal and public banking on March 29th on the Post Office steps.
We are planning our next event, 'Jam the Sale.' Spread the workd and come help us out!
THINGS ARE HAPPENING!
56145