On October 21st, 2013, an organized group of Port Truckers based in the Port of Oakland, in collaboration with local labor activists, stopped work and picketed gates at the Port in protest of their working conditions. Oakland, as usual, responded with vast numbers of riot police who pushed the picketers illegally out of crosswalks and threatened them with arrest.
That seems only to have persuaded other truckers – wary of protests – which side they should be on, made the already protesting truckers even more determined and bent them all in more radical directions.
So it was, afraid after years of broken promises their demands were still not being taken seriously, forty or so cabs, truckers within, decided to make their presence known – and very much heard – by invading downtown Oakland. They circled City Hall block making hella noise, with horn blasts just outside Mayor Jean 'Twoface' Quan's office. Supported by local activists banging pots and beating drums, the noise demonstration went on for at least an hour.
Port Truckers are in an almost impossible position. Unable to bargain collectively because they are considered independent contractors, they have nonetheless been powerless in "contract" negotiations with Port authorites who have basically set the rules of engagement on a "Take it. Or else." basis for years.
They have been without an increase in their pay rate haul a load for ten years.
They have had to upgrade their trucks with new pollution control equipment, taking out large loans to do so with insufficient financial assistance from the Port of Oakland.
They are forced to wait indeterminate amounts of time – sometimes an entire morning or afternoon, waiting for a load, and are uncompensated for their wait time.
While they wait, they cannot turn off their engines and therefore burn fuel they must pay for, contributing to the pollution of West Oakland and the planet.
Until recently, while so waiting, THERE WERE NO BATHROOM FACILITIES THEY COULD USE. LEAVING THEIR CABS WAS, AND MAY STILL BE, AGAINST PORT REGULATIONS, OR RIDICULOUSLY RESTRICTED. (You do the math).
Here is a detailing of their issues from October 20th: Open letter to the community from Port Truckers.
Continue HERE for the photo/video/tweet essay of yesterday's demo with a supporting-actor role played by none other than the Oakland Police.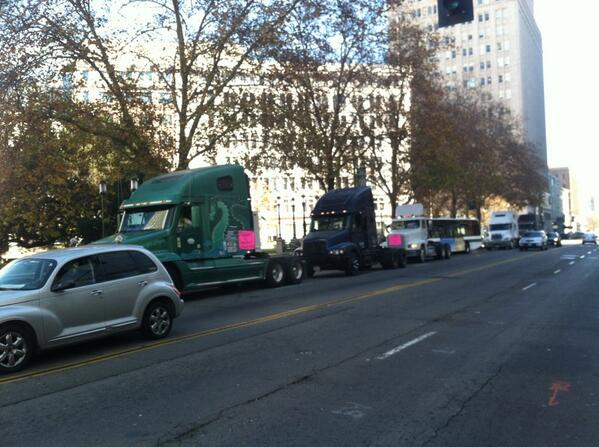 53948