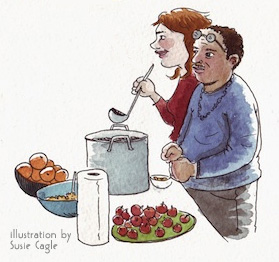 Hi Food Justice Community!
The Oakland Kitchen wanted to give a shot out to all the amazing and powerful food people. The BBQ crew has been on it! We also have a ton of occupy oaklanders helping at the kitchen farm, also thanks to the crazy autonomous cook and his huge meal actions all over town…..you know who you are, suspenders and all. Its such hard work and a lot of us know what it takes to cook for dozens and dozens, if not hundreds of people.
We wanted to touch base with everyone and see if anyone wanted to do food for an upcoming action, or had other food related ideas?
We have been getting a ton of produce donations and have been processing a bunch. On that note we would love to get some continuous weekly food actions going….similar to food not bombs but Oakland style! Maybe at a park, a big intersection, a hospital or community center…….at least a few days a week. we need groups of people who want to cook certain days and kitchen space offered to cook in by-weekly. Please email us if this sounds fun and/or u have suggestions, ideas or a kitchen to offer. kitchen@occupyoakland.com
This Lets organize, open food centers and continue building for the future! Food revolution! Food Sovereignty!
Also please go support the farm in Albany on Marin and San Pablo. UC Cops are slowly taking access away from the community, and have just given a deadline of Saturday. We need people to be there, help farm, do night time security and to bring food. for more info go to takebackthetract.com. WITH LOVE!
30919