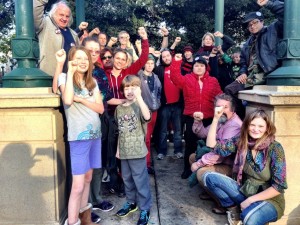 Sunday, December 15th, marked two years since Kali was arrested for occupying Oscar Grant Plaza during the vigil, arrested for possessing a blanket.
WHY WAS HE ARRESTED? As absurd as it sounds even now, he was initially taken into custody for sitting on a public bench with a blanket. But we know the real reason they brutalized him and locked him away for 3 more years (nearly giving him a life-sentence!) was for being a bold, beautiful, black man they want so badly to break.

He was one of many arrested during the post-camp Occupy Oakland Vigil but unlike most of us who have since been released or served out our time, he is currently serving out a 3+ year sentence in state prison.
Many who knew Kali, and some that didn't, came together at OGP to take photographs to send to him  in one of his favorite spots, and sign a card wishing him well.
FREE KALI !
Here is a piece by Kali's friend and comrade on the 1st anniversary – one year ago – of his arrest.
54366