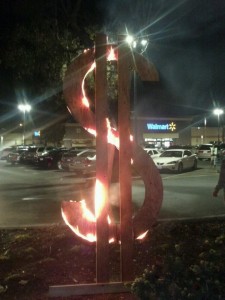 More than six hundred people protested at the San Leandro Walmart on Black Friday beginning at 3;00 PM, participating in a nationwide event that saw over a thousand Walmarts with protesters of one form or another. The Brass Liberation Orchestra came to San Leandro, along with many other East Bay activist groups and unions.
As the protest was waning, a large dollar sign appeared in the parking lot and began combusting. This picture was snapped and sent out via twitter at approximately 6:30 PM that day.
While dollars themselves are known to accumulate within the Walmart empire (to the tune of the $150 billion net worth of the Walmart family) this is the first know appearance of a dollar sign itself on a Walmart property, ablaze or not.
54254