Yvonne Liu captured the moment perfectly.
At one point, around 6pm, the picketers realized that Miguel Masso, the Oakland police officer who killed 18-year old Alan Blueford was standing in the scrimmage line of cops. People started shouting, "Killer! Child killer!" until the field commander removed Masso from the line.
This is the second time Miguel Masso has been told "NOT Wanted!" by Oakland's citizens. The first time occurred at Oscar Grant Plaza during the Trayvon Martin protests in August, when he was again pulled off the line by his superior, tucked away in a van and driven from the scene after a crowd recognized him, came near, and started screaming similar chants as above.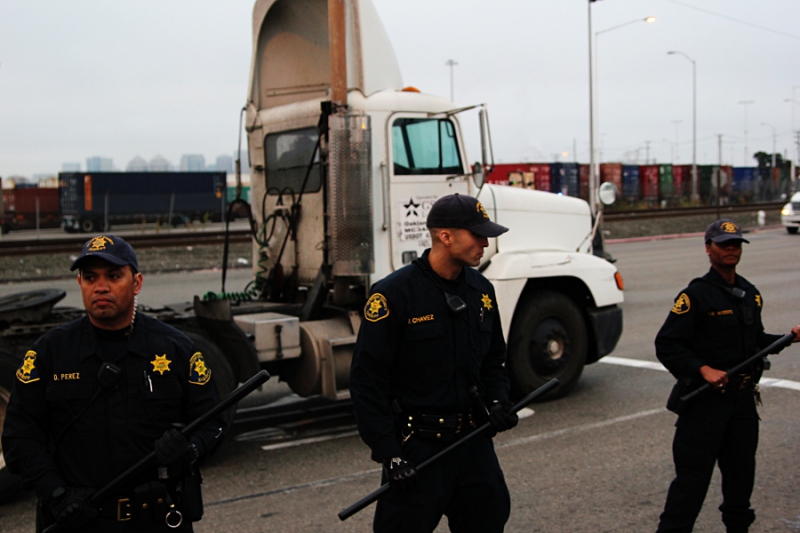 Port Truckers and supporters had been attempting to picket the second shift at the Port of Oakland, beginning at 5:30 PM, demanding better working conditions. Police and Sheriff's Deputies, as they did in the morning, pushed the protesters off their pickets and out of the crosswalk across the gate at 1717 Middle Harbor Road.
Dan Siegel, civil rights attorney, stood with the Port Truckers yesterday and in this video explains why, besides being not wanted here at all, they were breaking the law by forcing peaceful picketers out of the crosswalk. As always, they were deaf to law and the constitution, blindly obeying orders.

http://www.youtube.com/watch?v=xgV_GA7idmU
Port Truckers Statement to the Community:
#PortTruckers statement on today and tomorrow: The Port Truckers want to (again) thank all who came out today and helped make it a huge success. They know it struck a blow and will raise their voices. They are still meeting into the night to decide what their strategy will be now, but have decided that if they take action tomorrow, they want to go it alone this time. We can support them by getting the word out for now. They have said that they do want our support in the future and they also want everyone to know that they will be there to support us in future actions.
53345