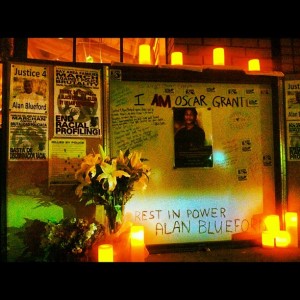 Alan Blueford of Oakland, CA, age 18, was shot and killed after being stopped for being, young, Black, male and "acting suspiciously." His last words were "I didn't do anything."
Manual Diaz of Anaheim, CA, age 25, was shot in the back and killed as he ran away after officers decided to check him out because he was standing next to a car, talking to other young, Hispanic men inside it.
Derrick Gaines, age 15, was shot and killed in South San Francisco after officers stopped him and his friends for "acting suspiciously."
Ramarley Graham, age 18, was shot and killed in his own bathroom after being chased there by a New York City police officer over a bit of marijuana.
There are far too many more.
The Justice 4 Alan Blueford Coalition is attempting change this dynamic. On November 10th, 2012, in downtown Oakland, we will be staging a rally and march Against Police Brutality, to End Racial Profiling, and in Opposition to Stop & Frisk Policies which aid and abet such. We have invited the families of the victims of police murders from around the Bay Area and Northern California, some going back as much as twenty years, to speak. We have reached out to local organized labor and have gotten endorsements for this action by local ILWU and SEIU chapters; their representatives will be speaking. Kristian Williams, author of Our Enemies in Blue: Police and Power in America will also be lending his voice to ours.
The Blueford family is committed to seeing that what happened to their son and so many others does not happen again. The Blueford family has reached out to families in other states like the Grahams, and organizations in New York City fighting Stop & Frisk. They even managed to get caught in Hurricane Sandy before escaping to Philadephia to meet with Mumia Abu-Jamal. (see group photo and continued article here)
43720