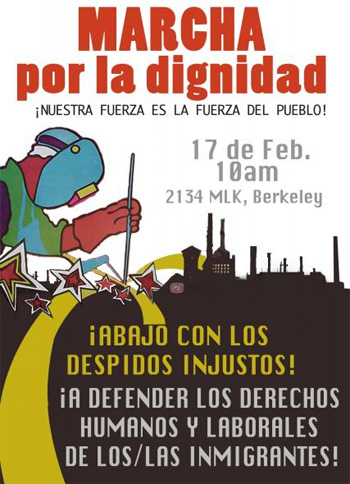 MARCH FOR DIGNITY. Friday, February 17, 2012, 10:00 AM. Berkeley City Hall.
* More than 200 workers of the Pacific Steel Casting plant in Berkeley, CA were laid off due to a "silent raid" conducted by the U.S. Department of Homeland Security (ICE). * These laid off workers have organized a mutual support committee and will hold a public march, Friday, February 17, 2012, to fight the unjust layoffs they've suffered. * One laid off worker, Jesús Navarro, who is waiting for a kidney transplant, has been denied further treatment by UCSF due to his immigrant status. * 2010-2011 was a record high year of undocumented, immigrant worker deportations.
More than 200 workers of the Pacific Steel Casting plant, one-third of the workforce, suffered a terrible blow after a forced layoff from their jobs at the end of last year, resulting from a silent raid. This sweep took place in a renowned "sanctuary city," Berkeley, CA. The reason given for this massive firing was a federal Immigration and Customs Enforement (ICE) I-9 audit. According to this rationale, the workers were impacted by an ICE intervention. These audits require an employer to provide ICE with an employee I-9 form, documents to verify U.S. government authorization to work in this country. These silent raids are part of an anti-immigrant policy started in April 2009 by the Obama Administration. Since then, ICE has reportedly carried out approximately 3,015 audits, in comparison to 503 in 2008. This represents an increase of 154%. The workplaces most affected have been companies employing unionized workers.
The GMP union, Local 164B, representing the laid off workers, stated it tried to halt the layoffs, but couldn't. However, the workers believe union leaders took a passive stand, and today they feel abandoned by their union. Presently, these workers do not have any income to raise their families and have also lost access to their health care insurance benefits. The majority of those laid off had from 5 to 20 years seniority with the company. The workers have organized a mutual support committee and will hold a public march, Friday, February 17, to fight the unjust layoffs they've suffered.
The general public is invited to join the March for Dignity and in this manner send a strong message to the Pacific Steel Casting Company, the U.S. government, and President Obama to demand an immediate immigration reform that permits all workers access to work within a framework of peace, fair working conditions, and unity with their families.
MARCHA POR LA DIGNIDAD. Viernes 17 de Febrero, Berkeley, CA.
Más de 200 trabajadores de la Fábrica Pacific Steel Casting, es decir una tercera parte de la fuerza laboral de esta empresa, a finales del año pasado sufrieron un fuerte golpe al ser forzados a dejar sus empleos a causa de una "redada silenciosa." Esto tuvo lugar en una de las famosas "ciudades santuario", Berkeley, CA. La razón dada por este despido masivo fue una auditoría realizada por las autoridades federales de inmigración, "ICE". Según esta versión los trabajadores resultaron afectados por la intervención de ICE. Estas auditorías requieren que un
empleador le presente a ICE los documentos establecidos por la forma I-9 de sus empleados para verificar su autorización de empleo en este país. Estas "redadas silenciosas" son parte de una política que se inició en Abril 30 del 2009 por la administración del Presidente Obama. Desde entonces, ICE reporta que ha llevado a cabo aproximadamente 3,015 auditorías en comparación a 503 en el 2008. Esto es un incremento del 154%. Las industrias mas afectas han sido empleados sindicalizados.
El sindicato GMP Local No. 164B al cual están afiliados los trabajadores expresó que trató de parar los despidos pero no pudo, no obstante los trabajadores creen que los líderes del sindicato adoptaron una postura temerosa y ahora se sienten abandonados por ésta. Ahora estos trabajadores no perciben el ingreso económico para mantener a sus familias y además han perdido el acceso a su seguro de gastos médicos. La mayoría de los afectados tenían de 5 a 20 años de trabajo en esta empresa. Los trabajadores despedidos se han organizado en un comité de lucha para apoyarse mutuamente y lanzar una marcha pública como denuncia al injusto ataque sufrido.
Se invita al público en general a unirse a la Marcha por la Dignidad y de esta manera mandar un fuerte mensaje a la empresa de Pacific Steel Casting y al gobierno del presidente Obama para exigir una Reforma Migratoria inmediata que permita a todos los trabajadores poder realizar sus labores en un marco legal de tranquilidad, en condiciones justas y en unidad con sus familias.
19756