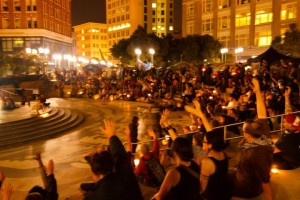 In preparation for re-imagining the General Assembly, we'd like to hear your thoughts about the GA.  Please take a couple minutes and tell us what you think in our survey:
English: https://www.surveymonkey.com/s/8YDSBC2
Spanish: https://www.surveymonkey.com/s/8FBFRGT
Much feedback has been received about the Occupy Oakland General Assembly over the months. Some people find that the General Assembly works well as an effective decision-making process and as a community forum. Others feel that it is not serving the needs of everyone who may want to participate. We acknowledge that some have felt injured by the process; and also that others say it is not well-structured for organizing political action. We would like to bring the community together to see how best to design our GA.
These questions reflect feedback the Facilitation Committee has received about the GA over the months. Your answers will help us design the gatherings for further discussion and possible changes to the GA, beginning with the first gathering in mid-June. You don't need to answer all the questions, and you can make additional comments throughout.
30594