When:
December 9, 2023 @ 5:00 pm – 6:30 pm
2023-12-09T17:00:00-08:00
2023-12-09T18:30:00-08:00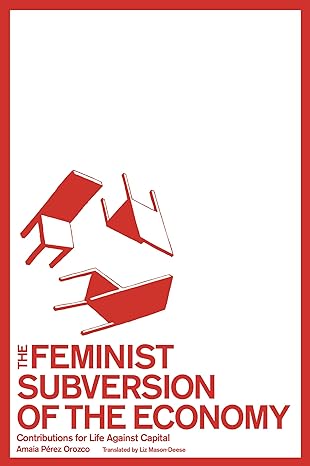 Email strike.debt.bay.area@gmail.com a few days beforehand for the online invite.
For our December meeting we are reading the first half of The Feminist Subversion of the Economy. (Common Notions Press, Amazon)
The political response to the COVID-19 pandemic and the pressures on the global capitalist economies has, once again, imposed the priority of markets over life. Add to this the climate crisis and, undoubtedly, the task of sustaining life continues to be privatized, made invisible, and feminized.We must ask: what does a dignified life look like, especially one that transforms the gendered labor divisions and a racialized, exploitative feminized care economy that falls mainly on the shoulders of women—from the household to the wider effects of the capitalist economy on social reproduction.
At the same time, these questions are intimately connected with considerations of our environment. The Feminist Subversion of the Economy makes the conection between patriarchy, capitalism, and ecological crisis—and rallies women, the LGBTQ+ community, and movements worldwide to center gender and social reproduction in a vision for a just ecology and economy.
Public intellectual, academic, and activist Amaia Pérez Orozco offers a vision beyond the myths of development (unlimited growth), wealth (accumulation of capital), and work (limited to waged labor) and, at the same time, accounts for the tasks, networks, and economic subjects that, materially and daily, guarantee that life keeps going.
Newly translated and updated in collaboration with Liz Mason-Desse, who has won a PEN translation award for her work on feminist economics, The Feminist Subversion of the Economy shows the urgent need to radically and democratically discuss what we mean by a dignified life and how we can organize to sustain life collectively.
Strike Debt Bay Area hosts this non-technical book group discussion monthly on new and radical economic thinking. Previous readings have included Doughnut Economics, Limits, Banking on the People, Capital and Its Discontents, How to Be an Anti-Capitalist in the 21st Century, The Deficit Myth,  Revenge Capitalism, the Edge of Chaos blog symposium , Re-enchanting the World: Feminism and the Politics of the Commons, The Optimist's Telescope, Mission Economy: A Moonshot Guide to Changing Capitalism, Exploring Degrowth, The Origin of Wealth, Mine!, The Dawn of Everything  A History of the World in Seven Cheap Things, Beyond Money, Less is More,  Cannibal Capitalism,  Debt, the First 5000 Years , Poverty, By America, End Times, and Jackson Rising Redux.
76453