When:
April 15, 2023 @ 5:00 pm – 6:30 pm
2023-04-15T17:00:00-07:00
2023-04-15T18:30:00-07:00
Email strike.debt.bay.area@gmail.com a few days beforehand for the online invite.
For our March, April and May meetings we are reading Debt: The First 5000 Years  by David Graeber (Warwick, Amazon).
For  our March meeting we'll be reading the first five chapters.
For  the  April  meeting  we  are  reading  chapters  6 through  9.
For our May meeting will are reading the remainder of the book.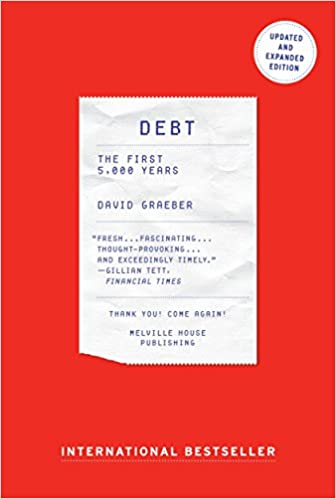 Before there was money, there was debt. For more than 5,000 years, since the beginnings of the first agrarian empires, humans have used elaborate credit systems to buy and sell goods—that is, long before the invention of coins or cash. It is in this era that we also first encounter a society divided into debtors and creditors—which lives on in full force to this day.

So says anthropologist David Graeber in a stunning reversal of conventional wisdom. He shows that arguments about debt and debt forgiveness have been at the center of political debates from Renaissance Italy to Imperial China, as well as sparking innumerable insurrections. He also brilliantly demonstrates that the language of the ancient works of law and religion (words like "guilt," "sin," and "redemption") derive in large part from ancient debates about debt, and shape even our most basic ideas of right and wrong.

We are still fighting these battles today.
Strike Debt Bay Area hosts this non-technical book group discussion monthly on new and radical economic thinking. Previous readings have included Doughnut Economics, Limits, Banking on the People, Capital and Its Discontents, How to Be an Anti-Capitalist in the 21st Century, The Deficit Myth,  Revenge Capitalism, the Edge of Chaos blog symposium , Re-enchanting the World: Feminism and the Politics of the Commons, The Optimist's Telescope, Mission Economy: A Moonshot Guide to Changing Capitalism, Exploring Degrowth, The Origin of Wealth, Mine!, The Dawn of Everything  A History of the World in Seven Cheap Things, Beyond Money, Less is More, and Cannibal Capitalism.
74594