When:
September 8, 2017 @ 4:00 pm – 7:00 pm
2017-09-08T16:00:00-07:00
2017-09-08T19:00:00-07:00
Where:
County Building
1221 Oak St #536
Oakland, CA 94612
USA

Community Rally and Resource Fair – Say NO to Urban Shield!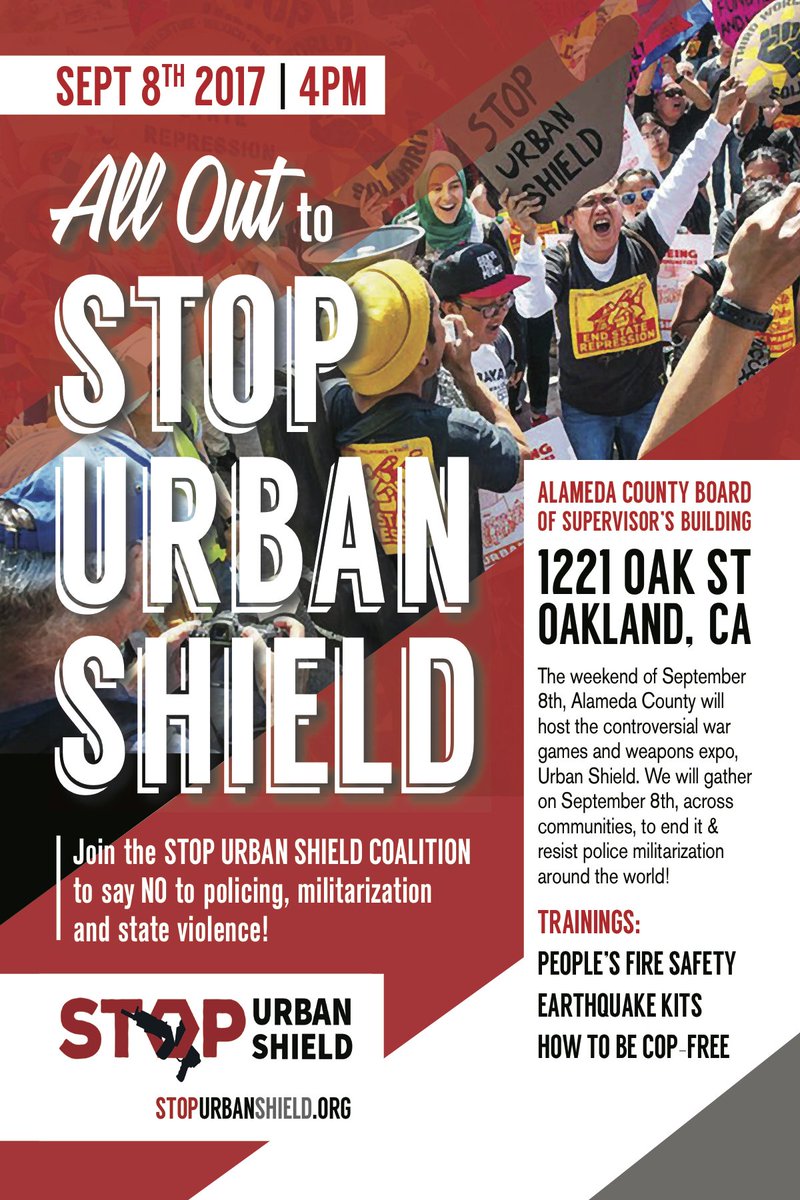 Rally will be at the Alameda County Admin Building
Resource Fair will be held at the Lake Merritt Amphitheater
In just the past week, Trump has furthered police militarization with the greenlighting of the 1033 program and expanded his attack on immigrants by announcing an end to the Deferred Action for Childhood Arrivals (DACA).
On the heels of these devastating policies coming from the federal government, Urban Shield will descend on the Bay Area this week, bringing police units from all over the country and world to conducted highly militarized trainings bent on further criminalizing and repressing our communities. But communities everywhere have sprung into action to declare that we will not sit quietly as militarization, racism, and xenophobia continue.
It's time for us to stand strong against state violence and demand and end to Urban Shield! Will you join us?
As a SWAT training program that promotes militarization, Islamophobia, and repression, Urban Shield affects all of us. Black and Native communities are the most disproportionately impacted by the violence of policing and militarization. Immigrants end up in detention and deportation proceedings as a result of sweeps and SWAT raids. Arab and Muslim communities are portrayed as "terrorists" and face increased criminalization and surveillance. Working class people and all who resist this state violence are met with police repression. In order to defend ourselves from these attacks and ultimately win, we must band together and fight back in unity.
Come out to the Stop Urban Shield rally and community fair this Friday to say NO to Urban Shield! Let's demonstrate what broad based resistance to militarization, policing, and state violence looks like!

Take Action
1) Come out this Friday for our Rally and Resource Fair
Are you with an organization, community association, religious institution, labor union, or any other group? Invite your members to come out!
2) Donate to our Wishlist
Support us in getting emergency preparedness supplies. We know the best response during emergencies is a community response – not policing and militarization. Let's work towards relying on each other!
3) Spread the word!
We're on facebook, twitter, and instagram, so please help us get the word out far and wide.
========================================================
The weekend of September 8th, Alameda County will host the controversial SWAT training, war games and weapons expo, Urban Shield. We will gather on September 8th, across communities, to end it & resist police militarization around the world!
With the current manifestations of violence under the Trump administration, it is more important than ever to urge the Alameda County Board of Supervisors to end this racist and Islamaphobic event and invest in emergency preparedness that benefits the health and wellbeing of our communities.
Join the Stop Urban Shield Coalition to say NO to policing, militarization and state violence! Join us in resisting violence against our communities and in fighting for genuine visions of justice, safety, and self-determination including trainings and resources on: People's Fire Safety, Earthquake Kits, and How to Be Cop-Free
4PM // Rally at Alameda County Board of Supervisor's Office, 1221 Oak St., Oakland CA
5PM // Community Fair at South Amphitheater Lake Merritt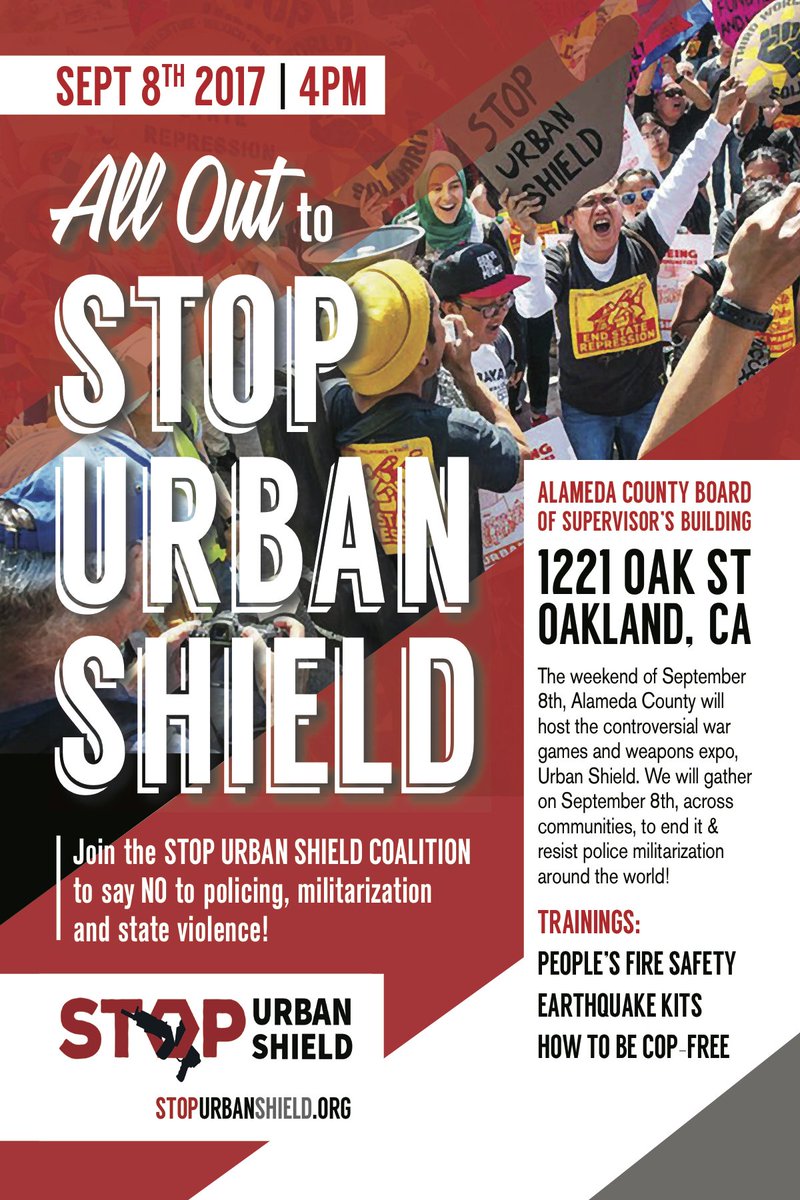 63510