We need you to help build a working class base for the bulb JOIN US MAR 22 sat 12PM TO 3PM to collectLOVERS OF THE BULB video and written TESTIMONIES phone numbers and contact info HEAVY RAIN CANCELS. Call Orion at 510 541-3835 or email ohohorion99 AT gmail.com to help. Above all VISIT THE BULB and take your friends there NOW!
In the last month we have collected over 100 phone numbers and signatures on the following petition we are using this petition as a organizing tool and calling people to call shitty hall 510 559-7250 to protest the removal of 50 parking spaces to isolate the BULB FROM IT'S WORKING CLASS BASE.
THE RESPONSE HAS BEEN TREMENDOUS.
The petition stated
" We the working people of the Bay Area Demand you Restore the Parking spaces at the BULB So that we can continue to have free Access with our friends,family and dogs to the SPACE we love so much"
90% of the people That signed the petition to restore parking are for the bulb to stay as it is. That means, they don't want the campers to be evicted, they want the art and they want unleashed dogs .
To us that signifies that this is a mass movement and that all we have to do is organize them the next step is to have them writ TESTIMONIES OF LOVE FOR THE BULB and print them up for social media
Our base is the people who use the Bulb for art dogs good times and camping. Not the just voters of Albany but the people who come to the Bulb, many of them for years. Two weeks ago a working family man said his daughter learned how to walk at the Bulb she is now 12 years old and was walking with him.
three weeks ago I met another man with three kids and he said his son Zane who was about 9 years old and digging the monsters faces by Mad Marc's Castle came out there when he was 4 yrs old and said at that time "this place is magic."
Come join US and meet the people and hear there stories.
My sign says "Don't Club The Bulb: Fight The One Percent"
For more background info go to sharethebulb.org watch gg/s statment to shitty hall, my KPFA INTERVEIW.and
Here's my song They Never Change, They Shoot Us Down Without Shame:
KPFA Interview with me:

GG's statement on homelessness at the Albany City Council:
 http://www.youtube.com/user/orionorion99?feature=watch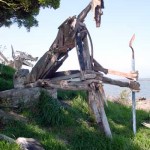 54945