When:
September 5, 2018 @ 4:00 pm – 7:00 pm
2018-09-05T16:00:00-07:00
2018-09-05T19:00:00-07:00
Where:
Pier 19, onboard the Artic Sunrise
1098 The Embarcadero
San Francisco, CA 94111
USA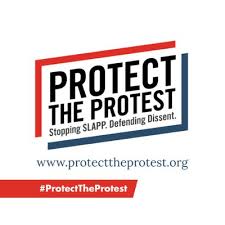 Protect the Protest: Panel Discussion Event on Greenpeace Arctic Sunrise Ship in San Francisco
Time: Boarding and ship tour from 3.30 PM, panel starts at 4.00-5.30 PM with optional reception afterward
At a time when we need protest more than ever, our First Amendment rights are under attack.
For decades, the powerful have attempted to silence their critics by filing meritless lawsuits intended to intimidate public watchdogs and advocacy groups. This repressive tactic — called "Strategic Lawsuits Against Public Participation" (SLAPPs) — is an abuse of the court system and a violation of the First Amendment rights of those who speak truth to power.
That's why a wide range of organizations across different sectors, including the ACLU, Greenpeace, and others, is launching the Protect the Protest task force taking aim at corporations and people in positions of power who use SLAPPs to try to limit free speech and silence critics.
Free speech, freedom of assembly, and peaceful dissent are fundamental pillars of democracy. Let's stand together as one to expose courtroom bullying, and protect the right to boldly speak the truth. Will you join us?
RSVP here: https://bit.ly/2MWszic
The Protect the Protest task force will assemble on the legendary Greenpeace Arctic Sunrise ship (once seized by President Putin in Russia for standing up against oil drilling in the Arctic) for a panel discussion by SLAPP suit survivors on why these legal intimidation practices remain a threat to good corporate governance and free speech.
Speakers include:
Moderator: Monika Bauerlein, Chief Executive Officer, Mother Jones
– David Greene, Senior Staff Attorney and Civil Liberties Director, Electronic Frontier Foundation (EFF)
– Annie Leonard, Executive Director, Greenpeace USA
– Christopher J. Herrera, Director of Communications, Rainforest Action Network
– Jacob Rogers, Legal Counsel, WikiMedia
And people personally affected by SLAPP suits:
– Mike Masnick, Founder & CEO, TechDirt
– Jim Taylor, active SLAPP defendant, Water for the Citizens of Weed CA
– Sandy Steers, former SLAPP defendant, Friends of the Big Bear Valley, Fawnskin, CA
PLEASE NOTE that the ship has limited capacity therefore RSVP is essential: https://bit.ly/2MWszic
http://www.ProtectTheProtest.org
Twitter: @SLAPPtaskforce
The Greenpeace activist ship, The Artic Sunrise, is docked in San Francisco Bay in time for the Rise for Climate, Jobs & Justice March happening in San Francisco (satellite events throughout USA & worldwide: https://ca.riseforclimate.org/), and the Global Climate Action Summit being hosted by CA. Gov. Jerry Brown for thousands of world leaders and delegates (Sept/ 12th – 15th).
65053