When:
October 14, 2012 @ 9:00 pm – October 15, 2012 @ 1:00 am
2012-10-14T21:00:00+00:00
2012-10-15T01:00:00+00:00
Where:
Techliminal
268 14th St
Oakland, CA 94612
USA

Oakland Cryptoparty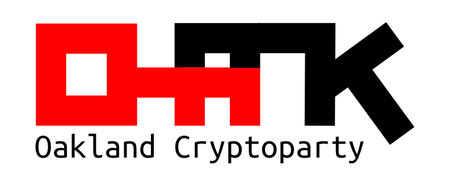 Simultaneous classes for beginners and Advanced.
Cryptography another essential tool for everyone, not just activists.
Techliminal
268 14th St.
Oakland, CA 94612
Sunday, October 14, 2012 from 2:00 PM to 6:00 PM (PDT)
Event Schedule (subject to change):
2pm –
3pm –
Welcome to Oakland Cryptoparty!
3pm –
aestetix (sudoroom) – A beginners guide to cryptography: Codes vs Ciphers, Classical vs Modern Crypto, symmetric, asymmetric, RSA, DES, and more. (Downstairs)
ryanj (sudoroom) – What do you want from a cryptoparty? Planning session and feedback for future events – which will enevitibly devolve into an open discussion (Upstairs)
3:50pm –
Micah Lee (EFF) – An Introduction to Public Key Crypto, the Web ofTrust, and Certificate Authorities: Start encrypting IMs, emails, and text messages today (Downstairs)
cooperq – Full Disk Encryption (Upstairs)
4:20pm –
leif – introduction to Tor (Downstairs)
5:00pm –
Mark Burdett (EFF) – textsecure, gibberbot (downstairs)
Garret Robinson – Building systems using open source cryptographic primitives: using Tor, GPG, and Bitcoin (Upstairs)
5:30pm –
Wrap up – upcoming events and closing announcements
5:40pm –
  PARTY!
https://cryptoparty.org and http://cryptoparty.eventbrite.com
42150