When:
2018-06-26T00:00:00-07:00
2018-06-27T00:00:00-07:00
Where:
West County Detention Facility
5555 Giant Hwy
Richmond, CA 94806
USA

UPDATE: Tuesday's action begins at 7:00AM. Vigil until 7:00PM. Press conference/rally at 12NOON with members of the Richmond City Council and representatives of local organizations. All organizations endorsing the action are invited to participate.
Individuals drIving to the action are encouraged to stop by the Richmond BART Station (east side) to help shuttle. Van shuttle begins at approximately 8:30AM and will continue throughout the day, twice an hour. Bring sunscreen, water, snacks and signs.
We are absolutely committed to non-violence. Legal Hotline # is 415-909-4NLG (415-909-4654).
==========
The only ICE facility in the Bay Area is located within the West County Detention Facility in Richmond, CA and operated by the Contra Costa County Sheriff's Office. On any given day, approximately 200 (adult) immigrants are detained there. Contra Costa County Sheriff John Livingston refuses to permit local organizations and elected officials to inspect the facility.
One of his deputies was recently arrested and charged with sexual assault against two inmates. We are working with Richmond-based community organizations, labor unions and immigrant rights groups to protest Trump's cruel immigration policies as well as the racial disparities in our justice system that contribute to mass incarceration of people of color, particularly African-Americans.
Please join us this Tuesday, all day, as we stand against ICE and Trump's racist policies. JOIN US!
We're working on a shuttle to/from Richmond BART. AC Transit #71 also runs from BART to the jail about every 30 minutes.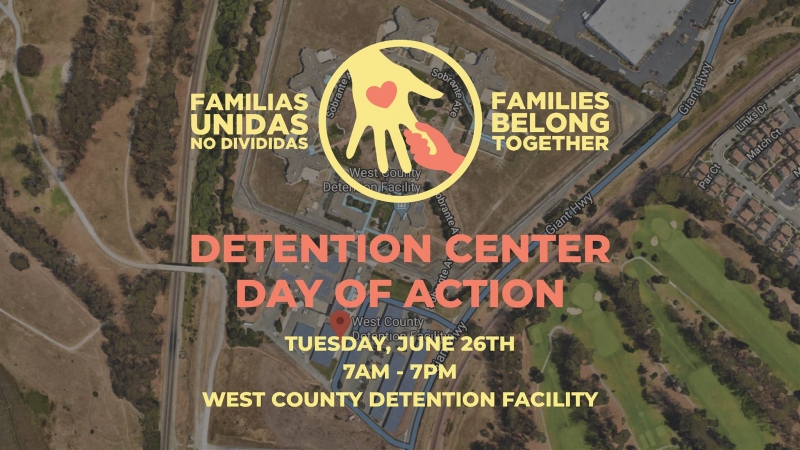 64837