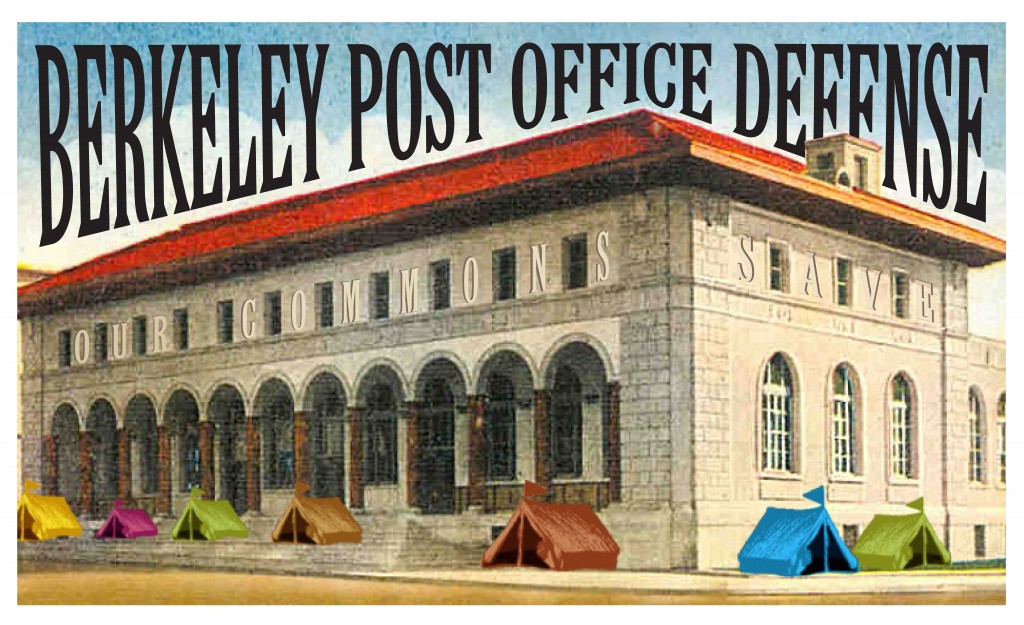 WE DID IT! AFTER 14 MONTHS OF WORK, THE ZONING OVERLAY ORDINANCE PASSED ON SEPTEMBER 30th. It will take effect on October 30th.
Read more about our victory here.
Nonetheless the Postal Service still has the Berkeley Post Office up for sale!!
And the Postal Service outsourced Post Office services to Staples, replacing union jobs with low-paying, low benefit work.
We're still fighting against both!
Come help us plan our next steps.
On July 29th, at our invite, Ralph Nader spoke on the steps of the Berkeley Post Office against privatization and corporatism. Watch and listen to his talk here.
We began the "Don't Shop at Staples" campaign with some awesome… what else? … postcards to send to Staples management!  Here's the front of the postcard. The campaign has been adopted by a large number of national and local unions, including teachers' unions and the AFL-CIO.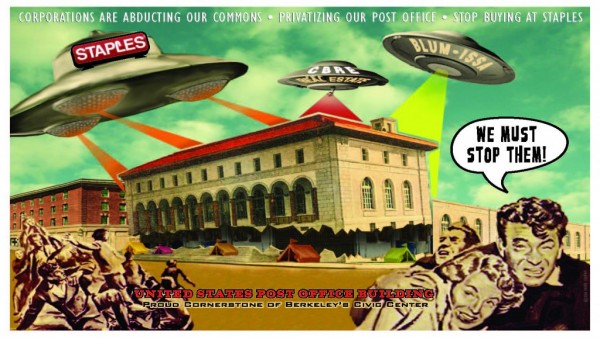 For almost four months the Berkeley Staples has been 'occupied' 24/7 by an intrepid band of San Francisco occupiers with solidarity and support from BPOD members distributing literature and convincing people not to shop at Staples.  They're still there! Come hang out with them outside Staples at Durant & Shattuck.
We have joined with other activists in Berkeley to put a ballot initiative, Measure R, on the ballot to cement the rezoning of the Berkeley Post Office and other areas in the Historic District to prevent privatization, and also to insure a better Downtown Berkeley.   (The City Council could undo what they just wrought at any time; a ballot initiative become law can only be undone by another vote of the people).
Come help us plan our next steps.
BPOD is an offshoot of Strike Debt Bay Area, which itself is an offshoot of Occupy Oakland and a chapter of the national Strike Debt movement, which is an offshoot of Occupy Wall Street.
57016