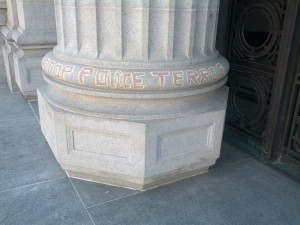 From September 4th, 2014, until September 7th, 2014, Urban Shield reappears in Oakland, CA.
It's four days of glorifying militarized police and their deadly toys.
It's a convention which markets death via its trade show and whose 2013 publicity has a picture of commandos on a BART train pointing assault weapons while a passenger rides nonplussed.
It's 2014 publicity pictures are equally horrifying.
Four days of weapons on display, sessions on how to deal with terrorists (but none on how to de-escalate a crowd situation or talk someone down who is mentally ill).
And this captures the concern over militarizing the police – for @radleybalko – pic.twitter.com/MEc1ntgdgf

— Scott Tibbs (@ConservaTibbs) August 23, 2014
It's a joint project of the Feds, who provide local police forces with no longer needed military weapons and technology, the Alameda County Sheriff's Department, which has hosted the convention since 2007, and We the People, who continue to allow such displays of testosterone and madness to happen.
Read the entire piece here.
At least three protests have been organized across Oakland for the time period when Urban Shield is happening.
At noon on September 5th, family members of the victims of police violence and their supporters will gather for a solidarity barbeque and rally near Lake Merritt, then march to the Marriott Hotel in downtown Oakland (12th & Broadway) where they will join others who will gather at 4:00 PM for a press conference and rally denouncing Urban Shield.
On Saturday, another march from Laney College to Oscar Grant Plaza is scheduled, followed by a town hall meeting on the topic of police violence and next steps.
56552