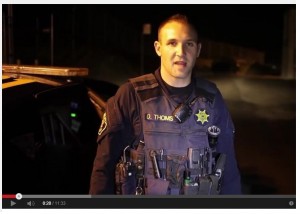 The Alameda County Sheriff's Deputy who killed unarmed Jacorey Calhoun, age 23, on August 3rd, 2014 in East Oakland was revealed today to be Deputy Derek Thoms.
Thoms made a ride-along video a year ago, also starring Zina, a German Shepard canine-unit dog.
Thoms, who has been with the Sheriff's Office for eight years, was named in a lawsuit filed in U.S. District Court filed by Juventino Rodarte, who accused the deputy of unleashing his police dog in March 2013 in San Leandro "without a particularized suspicion that criminal activity was afoot."
The dog "mangled Rodarte's left calf, thereby causing him to lose consciousness," said the suit, which is still pending.
The video of Thoms and his dog is embedded below.
Attorney John Burris, representing Calhoun's family, had this to say about the shooting soon after it happened.
"What was the imminent threat to himself or others that caused him to shoot?" Burris asked. Calhoun "was not seen with a weapon. He did run from the police, but running from the police itself is not the basis to shoot someone."
More info on Thoms:
Deputy Thoms earned over 230K in 2013. pic.twitter.com/4QBl0yY3eX

— OccupythePort (@occupytheport) August 19, 2014
56465