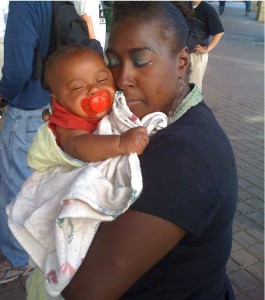 They've been away for too long, but the Chalkupy crew came back, with Fresh Juice Party and a host of other sketchers creating chalk art at Oscar Grant Plaza in honor of Monique Robinson, honoring her life and mourning her death.
Occupiers can from as far away as Canada to participate in the Chalkupy that began around 1:00 PM on Thursday, July 10th, 2014.
Below are snaps showing the design, the work, and the result. More Chalkupy art can be seen here and here.
Chalkupy was a weekly occurrence on the tiled bricks at Oscar Grant Plaza in 2012. Chalk art also appeared in Berkeley against Sit and Lie and in defense of the Post Office, in Davis and Sacramento against Monsanto, and in Los Angeles in defense of their ArtWalk.
The chalk will be washed away, but the art will remain, captured forever in pictures as it was being created and in its finished state.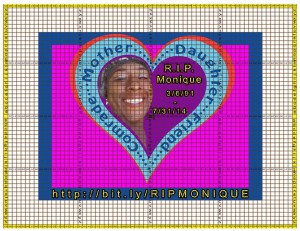 #Oakland show support for slain mother of two #MoniqueRobinson at Oscar Grant Plaza #Chalkupy http://t.co/J93ddWqIH4 pic.twitter.com/aRdRhvVUoa

— Onpublico (@onpublico) July 10, 2014
Mother. Daughter. Friend. Comrade. R.I.P. Monique. 3/6/91 – 7/3/14
Donations for Taylor, Monique's child.
56184