Hundreds of people gathered at the Marriott at 5:00 PM, took to the streets at 6:00 PM and ended up at Oscar Grant Plaza by 6:30 PM – just in time for roast suckling pig and other goodies provided by Occupy Oakland peeps. In commemoration of the 2nd anniversary of O25, OGP was reoccupied, if only for an evening.
See previous essays on earlier events of the day here – My Shield is Justice. Facing Down Urban Shield and here – OPD to the Left of Me, OPD to the Right of Me. Caught in the Middle with You All. For background 025. They Are Coming.
Here are some tweets, pictures and quotes as the evening progressed.
Before the march at the Marriott. Facing Urban Shield: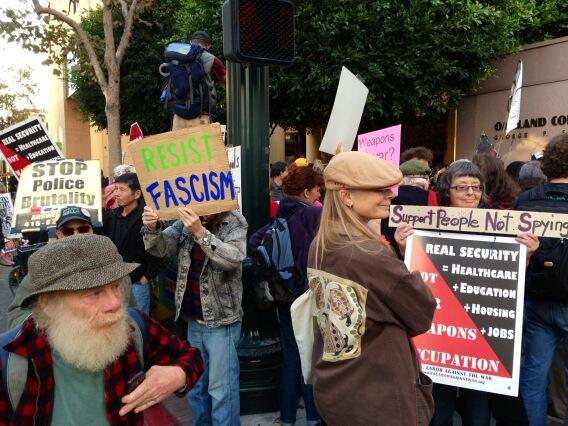 Adam @AdamInOakland
#oakland Police in helicopters, armored vehicles, ATV's, dual sport bikes, cars, vans, bicycles, SUV's, man I don't even…
| | |
| --- | --- |
| Weapons specs smuggled out of the convention. | Must be working. More cops keep appearing. |
Minister Flashes @Federal_flashes
We have police on foot. Police on bikes. Police in helicopters. Police in golf carts. Police on motorcycles. Police in cars. #UrbanShield
The rally at the Marriott was the finale for the Facing Urban Shield part of the day. Mollie Costello of the Justice 4 Alan Blueford Coalition gave a rousing FTP speech, readying the crowd for the march.
The March to the Plaza. Entering the Amphitheater:
The Brass Liberation Orchestra, Oakland's finest, spearheads the march and then provides a rousing finale in Oscar Grant Plaza.

Jayron @Jayron26 Great feeling seeing OGP reoccupied
by large group of ppl
Quote from Livestreamer:
"A really, really fun march. I wish it was longer. I could do that all day."
Minister Flashes @Federal_flashes
Lighting candles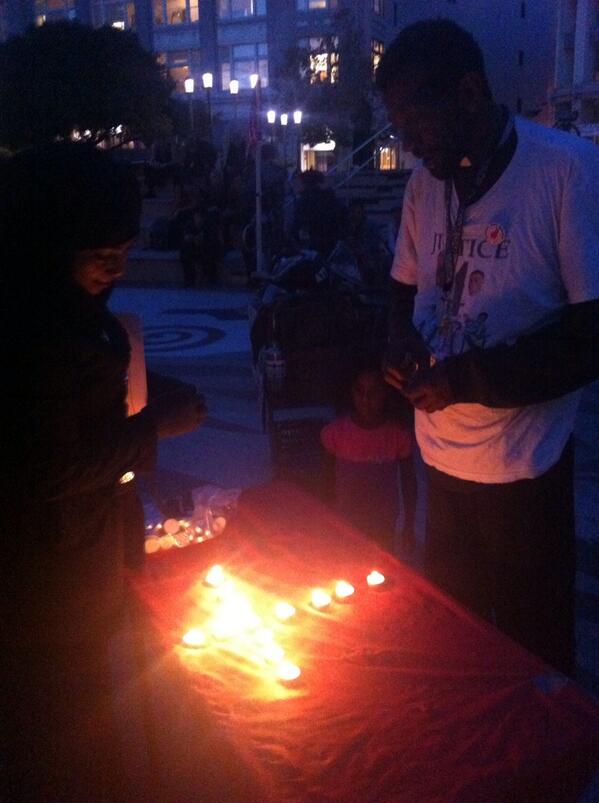 And now for the festivities:
Quotes from the Livestreamer at the Plaza:
"Good 300 people here, maybe more."

"Kitchen folks are awesome. There's always SO much to eat."

mary mad @marymad little girl beating pigyata with a stick.
Mehserle photo attached.
"Man, there is still so much food left. That pig fed an amazing number of people."
And birthday cake to boot:
JP Massar @jpmassar
60 cops surround OGP while people sing happy birthday.
BayAreaPublicSchool @TPSBayArea
60 OPD guarding birthday cake at OGP #UrbanShield that cake is SAFE
The big news of the evening:
Jesse Smith @SFTovarishch
RT @CNN: #BREAKING Scott Olsen clone army has spearheaded a coup d'état of Oakland city government. Mayor presumed dead. @OlsenVet
Retweeted by Scott Olsen
EDIT by Gnuworldorder:
The cops even blocked off the plaza, we had to schlep the food and gear from a block away.  Helicopters were overhead. Motorcycle cops even chased down a group of bicyclists and wrote out a bunch of BS tickets.
53416