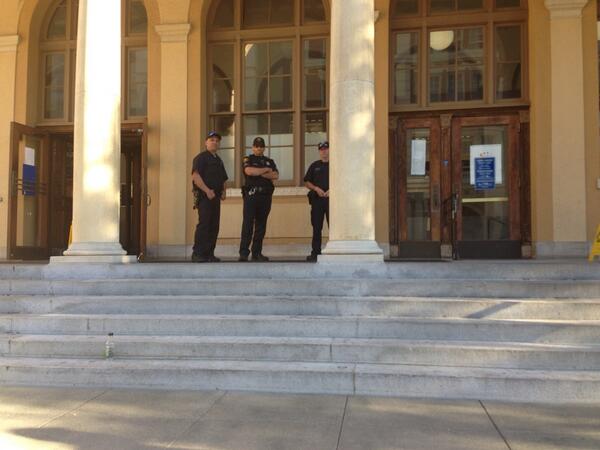 On the evening of August 28th, most Berkeley Post Office camp residents and supporters were in Oakland celebrating the 50th anniversary of the March on Washington and protesting against the murders of Trayvon Martin, Alan Blueford, Oscar Grant and many others by police and police surrogates. The Berkeley Police Department saw fit to use this opportunity to raid the encampment and "confiscate abandoned property" that in fact they knew very well belonged to protesters, stealing the possessions and sheltering of homeless Berkeley residents.
Using as a blank check a report released by the City Manager detailing incidents in and around the camp – some of which took place blocks away from the Post Office, some of which involved camp participants as victims, some of which had nothing to do with the encampment at all, and filled with lies, half-truths and distortions – twenty BPD officers swept through the camp Wednesday evening.
Just a day before, Berkeley's Mayor Bates was quoted as saying "They're a bunch of double-dealing sons of bitches." He was not talking about campers, but about those in the Post Office and the Postal Regulatory Commission responsible for dismissing his appeal of the decision to sell the Berkeley Post Office! That the Mayor would then look the other way while allowing the First and Fourth Amendment rights of protesters – who could be the only thing standing in the way of the sale besides a very costly, very uncertain, lawsuit – to be trampled on by BPD is an encapsulation of just how far down the road to a police state controlled by the one percent we have come.
This is not just a fight about a single building and a few jobs! It is a fight for the preservation of half a million living wage public Postal Service jobs; jobs the privatizers would like to see become McJobs or be eliminated entirely. It is a fight for the Public Commons: those who would privatize the Post Office are scheming to privatize roads, bridges, schools, hospitals, medical care and your Social Security. If we are not willing to defend the notion of a public Post Office as guaranteed by our Constitution what will we be giving up next?
Berkeley has a choice. It can defend the democratic will of its own people – as expressed vociferously in public forums and by its City Council and its elected representatives – by any and all means necessary, or it can meekly accede to a bureaucratic process whose end is now a foregone conclusion.
What say you, people of Berkeley and of the US?
— The Berkeley Post Office Defenders.
52407