With heavy hearts, we here of the Occupy Oakland Foreclosure Defense Group have two announcements to make.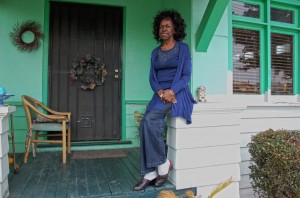 Our member and friend, Jodie Randolph has won one battle and lost another. As many of you know, Jodie was not only fighting for her home but fighting against cancer. Early Saturday morning that fight ended when Jodie passed away. We will announce details for the memorial service as we get them.
But in these last months, she knew though that together we had won the fight for her home. After 8 months of defending the home and fighting Morgan-Stanley, we have won on every demand and have signed paperwork securing the house. Even though the home now passes to her family, the deal stands … and indeed stands as testament to her fierce fighting spirit.
These past few months, a celebration was being planned to mark the win and reunite all who had a hand in this fight, who took shifts at the house, who called and wrote, who canvassed and flyered , who shut down Morgan-Stanley offices and even locked down a fifty two story skyscraper with Jodie. At the behest of the family, in addition to the memorial, the celebration will still be held, more than a celebration of resistance and a fight won, but also a celebration of Jodie, her life and spirit. Details to follow as we figure them out.
Rest In Power, Jodie.
Much love to the Randolph family,
OOFDG
51768