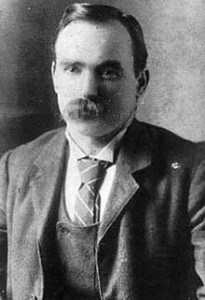 James Connolly – Songs of Freedom


Friday, May 10 at 7:30PM
518 Valencia (16th and Valencia in San Francisco)


Mat Callahan will report on the progress of the project to republish Songs of Freedom, a songbook edited by Irish revolutionary James Connolly and published in 1907 in New York. A year ago, Mat first announced plans to record a selection of the songs for a CD and to reproduce the original Songs of Freedom along with two other long forgotten song books containing Connolly's stirring lyrics. Now, the project is nearing completion. Tonight's event is being held to announce plans for publication and tours in Ireland in October 2013 and the US in 2014. Our publisher, PM Press, will be taking advance orders and we will be raising funds for the transportation of musicians to the various events being planned to launch this historic publication. Mat and Yvonne Moore will perform songs chosen from this repertoire. We hope to see you there!
Some of you may remember Mat from the bands The Looters, Wild Bouquet, and much earlier Prairie Fire, as well as the San Francisco Mission District performance space and artist collective Komotion.
Please check out his latest project, and let others know about it.
48993