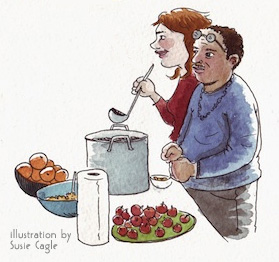 Occupy Oakland is planning our first BBQ and Speak Out event for Saturday, March 17, 2012. It will be in East Oakland at Arroyo Park, near 77th and Bancroft, from noon to 5:00 PM. There will be free medic training hosted by the People's Community Medics, plus arts and crafts, music, a children's village, literature, workshops, and free food.  We are requesting help with side dishes and desserts from all cooks who are able to help. We plan on serving at least 400 people, so anything would be amazing.
The OO Kitchen's wish list is:
– salads
– fruit, whole or fruit salad
– desserts
– snacks
– side dishes, veggie options a plus (soups, lentils, pasta, rice, etc.)
– juices – We have some 5 gallon containers and would like to provide healthy options such as homemade lemonade or agua frescas.
Please let us know what your ideas are, how you would like to help, and what support you will need, if any. Please spread the word to others who might be interested. Also, if you are not able to lead a cooking project, but would like to help other cooks, please send an email to us and we can direct you to the main kitchen group for BBQ support. Our email is: kitchen@occupyoakland.org.
Let's expand the Occupy Oakland community and make a beautiful meal for everyone!
22946