Organizers are hearing from ILWU rank and file of local 10 in the Bay Area that they are being told by their local president NOT to cross the picket line on Monday. This is a major victory and is in line with the long history of the ILWU respecting community picket lines
Oakland Educators Association has endorsed the 12.12.11 call to Blockade the Ports and will be participating in the action. Read their statement here.
Iraq Veterans Against the War has also endorsed the action and will be participating. Read their statement here.
Further Reading:
Numerous articles have been posted online explaining the context for the blockade and the relationship with organized labor.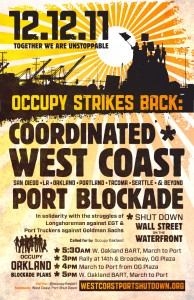 Counterpunch: From Camps to Ports: Wall Street on the Waterfront
Salon.com: Occupy Vs Big Labor
Occupied Oakland Tribune: A Reply to Cal Winslow on the West Coast Port Shutdown
Workers World: Solidarity of Labor Above All Else
10574