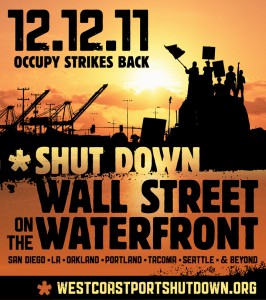 Action Schedule:
5:30am March to Port from W. Oakland BART

3pm meet at 14th & Broadway

4pm March to Port

5pm March to Port from West Oakland Bart
Text 'bayaction' to 41411 for updates & @occupytheports on twitter for updates
NLG Bay Area Legal Number (best to write this on your arm): (415) – 285 -1011
Occupy Oakland Medic Dispatch Number: (510) 712-8129
(If this is a life-threatening medical emergency, call 911 FIRST, then call the Medic Dispatch)
There will be busses and cars at West Oakland to transport those who can't walk and to transport people quickly. We can always use more cars and bikes so if you have one show up at West Oakland Bart and check in with people organizing transit.
Things to bring Monday:
Please bring lots of food and water. The logistics and kitchen teams have been hard at work but food and water may run out or not reach your area of the port. We want you to stand strong so bring a backpack with supplies for yourself and others. Print out some maps of the port http://www.portofoakland.com/pdf/mari_map.pdf and charge your phone.
Things to bring for others:
The committee tasked with supplies has a lot but can always use more. To lend bike trailers and portopotties and give food and water please bring them to the West Oakland BART in the morning. Also email events@occupyoakland.org, there will be a food/supplies depot set up near the port. Other things that are useful to the logistics team for the port shutdown: Bullhorns and batteries for them, drivers with cars and trucks, people with bikes, people who show up early to help get us set up.
more updates at westcoastportshutdown.org
10690