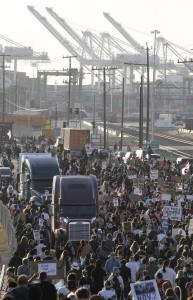 Huge, enthusiastic, crowds swarmed through downtown Oakland with half a dozen major marches on banks and corporations that shut down Wells Fargo, Chase, Citibank, Bank of America and many others.  Police stayed clear of the strikers who ranged freely, from Broadway to Grand Avenue and around the Lake.  By late afternoon the crowds had swelled to over 10,000.  Waves of feeder marches continued to pour into the Oscar Grant Plaza, including 800 children, parents, and teachers  who had gathered at the Oakland Main Library.
The evening march to the Port stretched from downtown to the freeway overcrossing in West Oakland and thousands more protestors kept arriving as the third convergence of the day reached its peak.  Over 20,000 people joined the march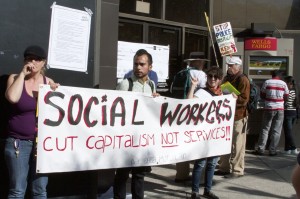 which made its way to the main entrance of the port and shut it down completely.  Port officials confirmed that the workforce was sent home.
Back at Oscar Grant Plaza a festive atmosphere continued as  the Alameda Labor Council and dozens of representatives from a cross-section of unions served barbecue to thousands.  Day of the dead altars, a 99% story telling t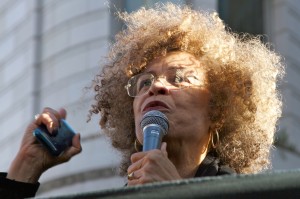 ent, string sculptures, and hundreds of posters surrounded the encampment of the occupiers.  Speeches, impromptu music jam sessions, and rock and roll echoed off the office towers as Oaklanders and Bay Area workers celebrated a hard won victory of the 99%.
As of 8 pm the police remained hidden out of sight.
Seize the Time!
POST SCRIPT:
Late into the night the police returned in force, reportedly to deal with the building occupation at the former homeless service center on 16th street which was closed and vacant. The interim Police Chief claimed at a press conference the next day that he feared the building would be set on fire. On this flimsy pretext the police cleared the building. the Interim Police Chief also acknowledged having called on other police departments from around the region to come to Oakland much earlier in the day, but provided no explanation as to why.
After the raid on the occupied building, some demonstrators set fires to trashcans and built barricades in the streets. Others attempted to extinguish the flames. Unknown persons broke several local shop windows and spray painted slogans on numerous buildings. Police used tear gas and batons, injuring a number of protestors seriously including one who went without medical attention for 18 hours before finally being transferred to Highland Hospital with a broken spleen. About 80 people were reportedly arrested.
Photos:
Top Right: Port Shut Down
Left: Wells Fargo Shut Down
Right: Angela Davis Addresses the General Strike Rally
3183