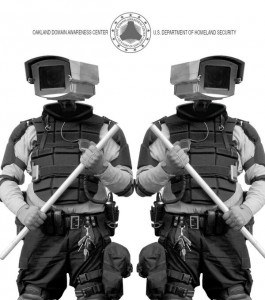 From the technical details – Schneider Electric has violated city ordinances and must be "debarred" (made ineligible to receive future city contracts), to putting the DAC into perspective going back to the FBI surveillance of Martin Luther King and the incredible governmental abuse revealed by Edward Snowden, Oakland Privacy Group members told members of the Oakland City Council Public Safety Committee why continuing on with the Domain Awareness Center was unconstitutional, illegal, unethical, and unwise.
And, as usual, it all fell on deaf ears.
Once the hurly-burly was done, the Public Safety Committee voted 3-0-1 to send the request for approval of Scheider Electric as contractor for Phase II of he DAC to the full City Council. This despite compelling evidence that Schneider is a nuclear weapons contractor. Their only material adjustment to the proposal was to insure that if Schneider was ultimately found to be in violation, City staff would not have carte blanche to negotiate a contract with some other entity rather than returning to the City Council for approval – as staff had so arrogantly requested in the resolution they had initially put forth.
The proposal is scheduled to come before the full Council on February 18th.
There will be a rally against the DAC on February 4th at OGP. Everyone is invited!
Sign the petition against the DAC.
Listen as Brian, Eddan, Miguel, JP and Josh testify before the Committee.
Brian:
Eddan:
Miguel:
JP:
Josh:
54740