First Friday evening (1/3/14) Oakland Privacy Group (OPG) peeps were out in force doing mock surveillence, distributing anti-Domain Awareness Center (DAC) literature, talking to people about privacy and the DAC, and even making trouble for  Jean Quan as she stood by her "Quan For Mayor" booth just a couple of hundred feet away.
A good time was had by all, except, perhaps, the Mayor.
Approval for a contractor to take over Phase II of the DAC contract from SAIC – summarily dismissed months ago for violations of Oakland's Nuclear Free Zone Ordinance – is supposed to take place at the January 21st City Council meeting.
The City Council will discuss the matter February 4th, probably February 5th long after midnight if their past behavior is any kind of a guide. So we won't be having a big demonstration on the 21st as previously announced, but there will probably be a couple of folks there with food and a movie for those who didn't get the change of dates.
For more information on the insidiousness of the DAC and how it came to b in Oakland check out the DAC FAQ, the Oakland Wiki Domain Awareness Page and the Oakland Privacy WordPress.
OPG hopes to have a large peresence and a big rally on the 21st in front of City Hall at Oscar Grant Plaza, and YOU ARE INVITED.
The OPG hopes to have a large presence and a big rally on February 4th in front of City Hall at Oscar Grant Plaza, and YOU ARE INVITED. Please note the change of dates.
Check out the poster above and the event, entitled:
DON'T SELL THE PEOPLE OF
OAKLAND TO THE DEPT OF
HOMELAND SECURITY!
Two shots from First Friday:
We had a great booth, set up close to the Alan Blueford Center 4 Justice, with literature, video, real surveillence and awesome people staffing the area the whole evening.
OPG's next meeting is on January 15th, at the Sudo Room (entrance on 22nd St, use buzzer)
2141 Broadway, at 6:30 PM.  Come help plan the rally!
Also, sign the on line petition against the DAC.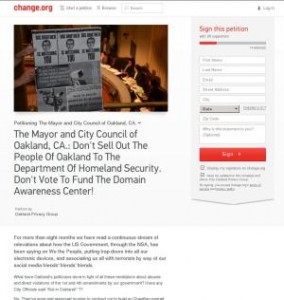 54500