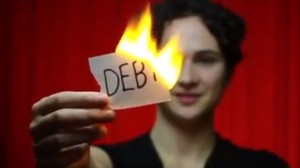 One year ago, Strike Debt New York City announced the Rolling Jubilee – an attempt to publicize our debt burden by buying up medical debt at pennies on the dollar and then in essence burning it. Stunning themselves, they received over $600,000 in donations, enough to retire tens of millions in debt.
But with great amounts of money comes great responsibility, and, after a couple of trial medical debt buys in early 2013 they have been working hard to use this vast amount of money as effectively as possible. On November 15th, they will be announcing the culmination of those efforts – a massive debt buy retiring medical debt for hundreds of not thousands of people to the tune of what will likely be at least ten million dollars.
With this perspective in mind Strike Debt Bay Area will be holding its third Debtors' Assembly one week later, November 23rd, 2013. This Debtors' Assembly will be an opportunity for people to come together, gain an understanding of how debt works, share their own debt experiences, work on various ways to change the unjust debt system and begin to organize debt resistance.
Debt is pernicious. From debtors' prisons in ages past (and still in existence in this country!) to today's debt collectors illegally and unethically doing "whatever it takes" to collect your debt; from medical debt causing immediate bankruptcies to payday loans beginning a cycle of greater and greater indebtedness – ultimately leading to bankruptcy and homelessness, the one percent's pursuit of debt as an instructment to effectively enslave the rest of us has never been more relentless.
Unscrupulous lenders have figured out how to demand money from people at their most vulnerable – when they are in serious pain or just after they are told they need life-saving surgery they cannot afford – to capture them with debt.
Banksters attack anyone who wants to try any new approach to relieve debt burdens – threatening to sue, redline and blackmail Richmond, California for even daring to THINK about mortgage relief for homeowners in danger of foreclosure.
Those who allegedly own debt often try to collect it from people who don't owe it. And in the vast majority of cases these alleged debt owners, when they do find the right person, can't substantiate their claim. Yet the swindles continue almost totally unchecked.
Meanwhile, student loans trap more and more people with more and more debt: "In 1979, student had to work 254 min wage hours to pay 1 year in-state tuition. in 2010, 923 hours."
These are just some of the things Strike Debt Bay Area has been discussing, calling awareness to and taking action on. If you would like to "join the growing resistance" come to the Debtors' Assembly or get in touch with us and check out our Facebook page. You can also find some of us every week at the Occupy Oakland General Assembly where we report on recent and upcoming SDBA activities.
53854