Peter Byrne, investigative reporter and author of an expose on Richard Blum, his corporation CBRE, his spouse Senator Diane Feinstein, and the privatization of the Post Office, will be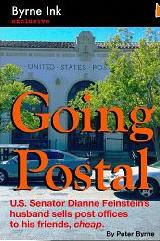 speaking at Berkeley Post Office Defenders' rally Saturday, September 28th at 12:00 noon on the steps of the Historic Downtown Berkeley Post Office at 2000 Allston Way.
Here are some brief excerpts from his expose, Going Postal: U.S. Senator Dianne Feinstein's husband sells post offices to his friends, cheap.
On Richard Blum and CBRE:
Real estate transactions are normally negotiated by agents who stay at "arm's-length" from each other's interests… ((But)) In a series of non-arm's -length transactions, CBRE has sold 20 percent of the postal portfolio to its own clients and/ or business partners.
On the privatization of the Post Office:
If artificially created bankruptcy implodes the traditional postal service model, Congress will have created a rationale to transfer ownership of the Postal Service to one or many of the corporations that are already doing much of the Postal Service's regular work, such as FedEx or UPS.
On the Post Office's financial troubles:
In 2012, the cost of delivering periodicals and flats exceeded revenue by $ 1.5 billion – and that loss was subsidized by the price of first-class stamps.
On Senator Feinstein, spouse of Richard Blum:
Not only has Feinstein not recused herself from voting on federal legislation that affects her family's business empire, she is on record as lobbying both the FDIC and the Postal Service on behalf of CBRE-related deals.
Come hear Mr. Byrne speak, listen to some great music, have some food, get updates on the efforts to save the Post Office and prevent the eviction of residents of the Albany Bulb. Come out and enjoy the beautiful Bay Area September weather!
52681