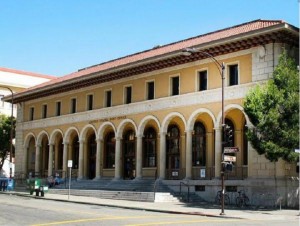 Defense of the Berkeley Post Office!
On July 27, starting at 1:00 PM at 2000 Allston Way, SAVE THE BERKELEY POST OFFICE in coalition with STRIKE DEBT BAY AREA will begin a defense of the downtown Berkeley Post Office. This demonstration of opposition to the sale of that Post Office will include a teach-in on privatization tactics used by the 1%, on the dangers of privatization to individuals and public institutions, and on the threats to civil liberties posed by the privatization of the United States Postal Service. There will be speeches by activists and public officials, music and dance performances, street theater, free food, public forums, and street art.
The Board of Governors of the USPS has declined to work with citizens groups, postal workers unions, and members of Congress to repeal or revise the 2006 Postal Accountability Enhancement Act, which includes the unprecedented requirement that the Postal Service pay $60 billion over a ten-year period to cover retirees' health benefits 75 years into the future. Instead, the Board has pursued a "shrink to survive" strategy – cutting services and selling post offices to pay this exaction. This strategy is not only crippling the Postal Service, but it is also insufficient to keep it from exceeding its statutory borrowing limit. Though thousands of Berkeley residents along with the Berkeley City Council and the Mayor have petitioned and appealed the Board's intention to sell the Post Office, we expect those appeals to be dismissed as has been the case with similar appeals in California cities, Oregon, and New York City.
Our goal in organizing this July 27 action in Berkeley is to call for attention to the closing of Post Offices nationwide, to the theft of our history and heritage by selling off Post Offices and especially the downtown Berkeley Post Office, to the privatization of what should be a publicly controlled enterprise and to the scourge of privatization more generally, whereby the 1% enrich themselves by taking possession of public belongings and consuming them. On July 27 we will also publicize our long-term goal of postal banking, which will both sustain the USPS and provide an alternative to our failed banking system.
Demonstrations against post office closings on the July 26-27 weekend – anniversary of the founding of the Post Office in 1775 – are also taking place in the Bronx, New York; Portland, Oregon; Tacoma, Washington; and at the Vista, California offices of Rep. Darrell Issa, who is leading the Congressional effort to dismantle and privatize the Postal Service.
More information on SAVE THE BERKELEY POST OFFICE.
More info on STRIKE DEBT BAY AREA.
On preserving public ownership of historic post offices.
Info on the role played by Richard Blum/CBRE in the USPS privatization strategy. and About CBRE.
Information on Public Banking.
Contacts:
Mike Wilson 510-299-0493, sdbadiract@gmail.com
Dave Welsh 510-847-8657, sub@sonic.net
51998